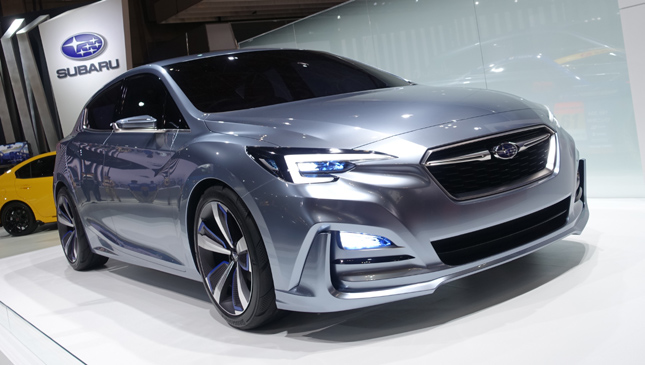 Not a lot of people noticed online, but Subaru succeeded in putting up a decent showing at this year's Tokyo Motor Show. This despite not having as much buzz surrounding its presence at the event compared to other Japanese carmakers. The S207 was a welcome addition to the Subaru family, but there was another car displayed alongside it that managed to grab its fair share of attention.
The Impreza 5-door Concept could be a glimpse into the direction the company is taking with regard to vehicle design. If this concept is any indication of how future Imprezas will look, then it's a far cry from the edgy appearance we've grown accustomed to over the years. Could Subaru be leaning toward a classier, more refined-looking ride?
Two words best describe the overall look behind this concept: sweeping and flowing. Everything from the front grille and back appears to make its way toward the rear of the vehicle. This is highlighted by the car's sharp hawk-eye headlights, hexagonal grille and side mirrors, which all appear to curve back in unison with sleek lines. Aside from being aerodynamically sound, such a design endows this concept with an incredibly elegant appearance.
A good portion of the design process seems to have been focused on the front end, which is smoother and more graceful than anything else we've seen from the Japanese carmaker. Yet the vehicle maintains a fair bit of its sporty nature thanks to its low, wide stance and solid unified-looking body. Put this together with the lustrous metallic silver finish and you've got an eye-catching ride.
Continue reading below ↓
Recommended Videos
So, will this concept usher in a new design era for the Impreza? It's still too early to tell. But if the answer is yes, then the future sure is looking good.