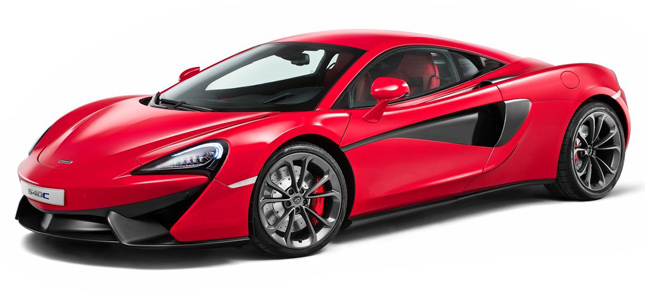 If ever a McLaren could be described as "affordable," this would be it. At the ongoing Auto Shanghai, the British carmaker launched the 540C Coupe. Billed as the most attainable McLaren yet, it joins the 570S in the Sports Series, which finally completes this series' two-car lineup.
With prices starting at £126,000 (P8.46 million), the 540C can be pre-ordered now, with deliveries starting in early 2016.
It may be the entry point into the brand, but this McLaren is almost as special as its older siblings. The 540C shares its DNA with the models in the Super Series and the Ultimate Series, including a lightweight carbon-fiber chassis and race-derived technologies.
It has a 3.8-liter twin turbocharged V8 that generates 533hp and 540Nm. Combined with a weight of only 1,311kg, thanks to a carbon-fiber MonoCell II chassis, 0 to 100kph takes only 3.5 seconds, rest to 200kph in only 10.5 seconds, and a top speed of 320kph--still well within supercar territory, if you ask us.
Subtle differences in the aerodynamic package and the wheel design distinguish the 540C Coupe from its more powerful kin, the 570S Coupe. The former has dihedral doors that include the elegant floating door tendon. The door channels air into the two integrated air intakes mounted in the rear quarter panel.
Continue reading below ↓
Recommended Videos
The wheels are new cast alloys, available in silver or stealth colors, and with 19-inchers in the front and 20-inchers in the rear. Pirelli P Zero tires come as standard. Compared to the 570S, the suspension has also been tuned for better day-to-day driving. Adaptive dampers still offer modes of Normal, Sport and Track: settings now familiar to McLaren owners.
The cabin has been designed with a focus on space and ease of use. Curves flow organically inside to bring "delicate tension" between the aggressive outer metal and the comfortable interior. Leather upholstery abounds, along with a seven-inch touchscreen for non-driving entertainment. And what a good idea it is to include the electronic owner's manual in the infotainment system.
The McLaren model line seems complete for the foreseeable future. All that's left is an official Philippine distributor to bring this exciting brand in. It should only be a matter of time.