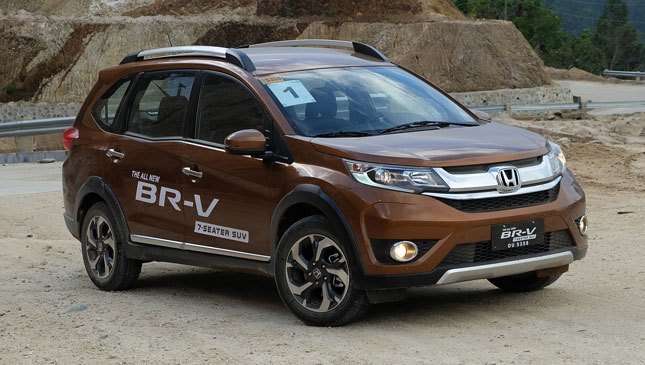 Ever since it was first revealed at last year's Philippine International Motor Show, the all-new Honda BR-V has caused quite a stir in the local automotive market. Some immediately took to the seven-seater SUV. As we wrote in a story a few weeks ago, Honda Cars Philippines (HCPI) has already racked up 2,000 reservations and sold over 700 units.
Others, meanwhile, have criticized it for a number of reasons. We've seen Facebook comments saying that it's underpowered, too small, poorly designed, and so on. So when we got the chance to talk to the BR-V's chief engineer Atsushi Arisaka and HCPI's sales division senior assistant VP Masanao Kataoka about their new SUV, we wanted to learn as much as we could.
Continue reading below ↓
Recommended Videos
Our first question was about how the BR-V came about. Arisaka explained: "We were interested in helping customers from the Asia/Oceania region who want to move from personal cars to SUVs. Honda wanted to introduce a new SUV to provide and engage the customers' hopes and dreams."
But with Honda already selling an array of SUVs, where does the BR-V fit in?
"This BR-V is our entry-level SUV," Kataoka said. "This entry-level model is purchased especially by entry-level families. Our perfect customer is [someone in their] 20s-30s, with a new family. So they will have kids, and they would also like to ride with their parents or in-laws."
The BR-V, according to Kataoka, will suit a young family with small children. Ideally, as the family grows older, they'll graduate on to bigger and more expensive models like the CR-V.
We then asked about Honda's decision to place a four-cylinder, 1.5-liter gasoline engine in the BR-V. "We have two reasons behind that decision, from the development side and from the marketing side," said Arisaka. "First, this 1.5-liter engine has enough power to [carry] seven passengers and this body size. So we didn't think about putting a higher-powered engine in the BR-V. From the marketing side, we would like to make a new price range for seven-seater SUVs: As you know, if we install a bigger engine, the prices and costs will go up."
Will we be getting a bigger engine in the BR-V, though? "It's up to the market," Arisaka said. "If the Philippines or some other Asia/Oceania region market offers to install a more high-powered engine, of course our development side will consider that. But we don't have any plans to install another engine as of now."
As for what the BR-V is like to drive, we were lucky enough to be able to take it through the winding hills of Baler. We also have a comprehensive review of the vehicle lined up in the very near future. Stay tuned for those stories.