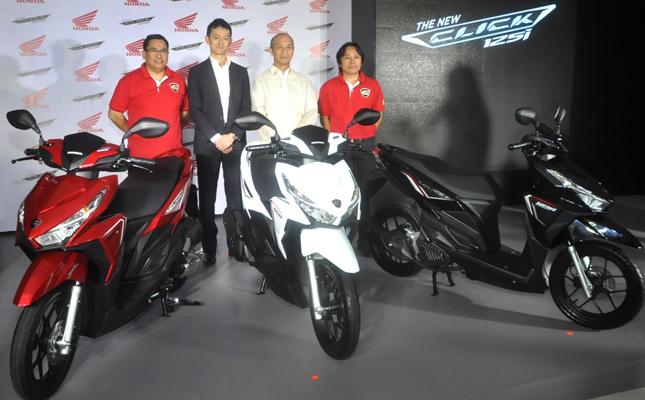 As city gridlock continues to escalate, the appeal of turning to more mobile alternatives like motorbikes keeps growing. While the thought of forgoing four wheels might seem anathema to car lovers, many have heeded the call of more practical mobility.
Honda Philippines recently introduced a scooter that might entice people to turn to two wheels even more, as well as convince current riders to upgrade. It's called the Click 125i, a successor of sorts to the Zoomer-X model.
Like its name implies, the Click 125i has a 125cc engine with modern tech features. Honda touts a trio of innovations to make riding safe and fuel-efficient. These are the Enhanced Smart Power (ESP), Idling Stop System (ISS), and Combined Brake System (CBS).
ESP is Honda's engine technology that combines high power and high fuel efficiency with a quiet start and a smooth eco-friendly engine. The quiet ignition comes from Honda's ACG starter, for a jolt-free start and with a more refined sound. This should prevent the Click 125i from buzzing irritatingly like other scooters, although that could also be a rider issue.
Once it gets going, the Click 125i's liquid-cooled engine generates 11.26hp and 11.16Nm. Fuel efficiency is rated at 64.3km/L at 50kph, a solid incentive given today's fuel prices. And this is where ISS comes in.
Continue reading below ↓
Recommended Videos
When the scooter is stopped at an intersection for more than three seconds, the ISS switches off the engine to eliminate wasteful fuel consumption. When it's time to go, twisting the throttle starts the engine in less than a second.
Other safety functions include an automatic Side Stand Switch where the engine doesn't start when in the down position, and the Brake Lock that prevents the motor from jumping when started. The Click 125i also has the largest luggage capacity in its class at 18L, which is large enough to store a full-face helmet.
Helping this new scooter look forward are dual LED headlights that are said to provide 80% better light intensity than traditional ones.
This modern ride can be had for P87,900, and in three colors: Pearl Horizon White, Asteroid Black Metallic and Candy Rose Red.
We all love our cars, but we hate traffic more. Alternatives as good as the Honda Click 125i are always welcome.
UPDATE as of June 11, 2018: The 45th Tokyo Motorcycle Show in Odaiba was held from March 23 to 25 this year. The photos and videos shared by their visitors might have caused confusion among netizens since they have almost the same group of motorcycle companies showing off their latest hardware and technology. Moto Sapiens attended the Tokyo Motorcycle Show. This year, 135 companies with 882 exhibit booths showed off their latest two- and three-wheelers, modern electric bikes, accessories, and even riding paraphernalia. There were launch events of new motorcycles, relaunching of face-lifted units, and even revivals of classics by Japanese, European, American, and—wait—two Taiwanese brands.