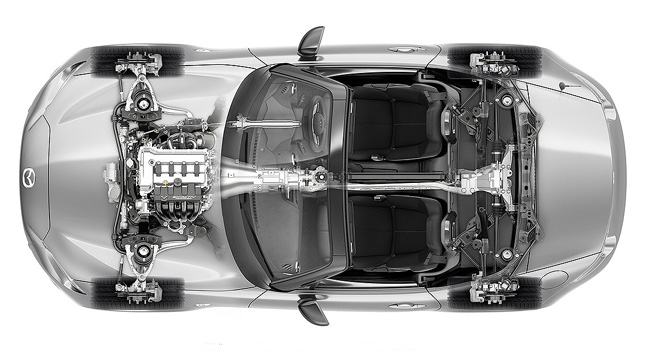 When Mazda revealed the all-new, fourth-generation MX-5, the Japanese carmaker trumpeted the car's weight reduction and went as far as saying that it is "almost as light as the first-generation model."
Well, Mazda has officially released the car's curb weight as equipped with the 2.0-liter engine, and it's 2,332lb with the manual transmission and 2,381lb with the automatic slushbox, both with six forward gears. In comparison, depending on the model year, the first-generation MX-5 weighed from 2,182lbs to 2,359lbs.
The weight-saving measures implemented on the all-new MX-5 include the widespread use of aluminum, specifically for the hood, trunk lid, front fenders, front and rear bumper reinforcements, and the links and header panels for the soft top.
Other ways that Mazda saved weight on the all-new MX-5 is by integrating the chassis with the body "to achieve the ideal structure," and by "introducing" holes in sections of the chassis and body reinforcements that did not affect its strength and structural integrity.
Continue reading below ↓
Recommended Videos