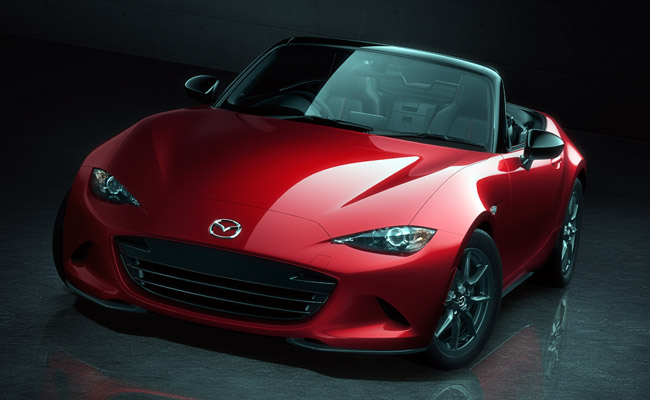 The all-new, fourth-generation Mazda MX-5 (internally code-named ND) has just been unveiled in three different locations: Japan, USA and Spain. Our photographer and blogger Mikko David is currently in one of those venues (Monterey, California) to cover the event. While we're waiting for Mikko's exclusive photos and story, here are glossy press shots of the new sports car (also called Miata and Roadster) to whet your automotive appetite.
The new MX-5 now boasts Mazda's Skyactiv technology as well as the Japanese carmaker's Kodo ("soul of motion") design language. It will be officially available to global markets in 2015.
"The MX-5 is an iconic model representing our vehicle-engineering philosophy--the pursuit of driving pleasure," said Mazda in a press statement. "The motto for the fourth generation is 'innovate in order to preserve', as the development team searched for innovations that go beyond simple evolution. Environmental and safety demands are much more stringent than they were when the first-generation MX-5 was introduced 25 years ago, but the fourth generation stays true to the model's original aim of offering the pure driving fun that only a lightweight sports car can."
According to Mazda, the all-new MX-5 is the most compact of any generation of the sports car so far, weighing some 100kg lighter than the outgoing model.
Continue reading below ↓
Recommended Videos
The Mazda MX-5 is still the Guinness World Record holder for being the best-selling two-seat sports car in history. As of July this year, MX-5 production had exceeded 940,000 units.
Anyway, watch for our on-the-ground report on the all-new MX-5 for more details and event photographs.