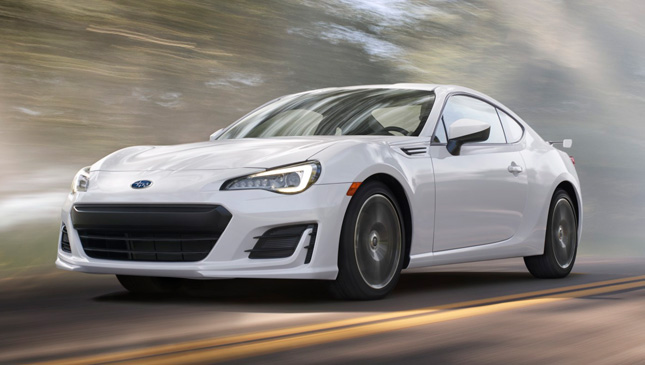 It's hard to believe that the Subaru BRZ is already more than three years old. First seen in late 2012, the Japanese coupe--together with its Toyota 86 twin--has won the hearts of car nuts for its attainable sportiness.
Having said that, three years is a long time in car years. Just as its Toyota counterpart has received an update, it is now the Subaru sports coupe's turn to have a nip-and-tuck. Unlike the 86's very obvious facelift, the BRZ gets a subtler makeover.
The front bumper is now lower and wider, and the headlights now benefit from full LED lighting. The side profile is enhanced by a color-keyed fender garnish that matches the handsome stance. The back end, meanwhile, features full LED taillights along with a body-color spoiler with black trims. The same wing is now set in a pedestal design that improves downforce and vehicle stability at speed. Finally, the car gets 10-spoke 17-inch alloy wheels set in black and machined finish.
The cabin naturally has been updated as well to complement the exterior revision. The steering wheel is now sportier, while red BRZ stitching adorns the front seatbacks. A new 4.2-inch display right next to the tachometer lets the driver in on stuff like g-forces, accelerator pedal position, steering angle, brake force, and even lap times via a stopwatch. It reinforces the feeling of driving.
And this sensation is what you will get, Subaru promises. The chassis has been stiffened with goodies like strut tower braces and transmission cross-members to help improve handling. The suspension has been updated with a larger rear stabilizer and upgraded coil springs. This gives the BRZ better stability while still making the ride comfortable for the everyday commute.
A more potent 2.0-liter Subaru boxer mill that now produces 205hp and 211Nm backs up all the aforementioned hardware. Although the gains are small, enthusiasts know that those extra ponies can make a world of difference in crucial lap times. In fact, Subaru has even lowered the transmission's final drive ratio along with the standard Torsen rear differential. The result is better overall drivability.
Those who want just a tad more fun (and who doesn't?) can opt for the Performance Package on the Limited trim levels. This upgrade adds niceties like Sachs Performance shocks and Brembo brake calipers and rotors. These little add-ons will pay for themselves once you're out on the edge.
The 2017 Subaru BRZ can now be ordered--if you live in the US, that is. But not to worry, as we're pretty sure Motor Image Pilipinas will soon offer it in our market. Wait for it.