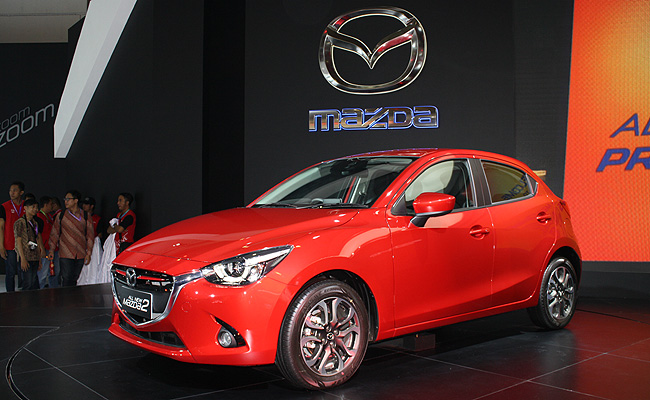 Production of the all-new Mazda 2 only began in July at the carmaker's Hofu plant in Japan, but apparently, the short time it has been on sale is enough for the subcompact hatchback to be recognized by the Japan Car of the Year Committee as its 2014-2015 Car of the Year.
The Mazda 2 is sold as the Demio in Japan, and it is the fifth Mazda vehicle to earn the award, with the CX-5 being the most recent one when it received the honor for 2012-2013. The Familia got the inaugural award for 1980-1981, followed by the Capella two years later for 1982-1983. And then it was the iconic MX-5 sports car's turn for the award's 2005–2006 edition.
We saw the all-new Mazda 2 up close at the Indonesia International Motor Show in September, and we were very much impressed by it. Considering the preconceived notion about its vehicle class, the 2 amazed us with its fit and finish, particularly with its interior. It was easy to mistake it as coming from a premium Teutonic brand. That it's also available with Mazda's Skyactiv suite of technologies--specifically the newly developed 1.5-liter Skyactiv-D clean diesel engine that "offers maximum torque equivalent to a 2.5-liter gasoline engine and outstanding fuel efficiency"--cements its stature as a worthy recipient of the coveted award in Japan.
Continue reading below ↓
Recommended Videos
If you're wondering when we're likely to see the all-new Mazda 2 on our roads, according to our source within the carmaker's local distributor, Berjaya Auto Philippines, it will be sometime in 2015 so don't hold your breath if you were hoping it would be launched this year.
"We are both honored and grateful that the Mazda Demio has received such a prestigious award," said Mazda president and CEO Masamichi Kogai. "This result is thanks to the enthusiastic support of all people who love cars. Inspired by this award, we will continue our quest to build cars that add a certain sparkle to the lives of their owners, and aim to become a one-and-only brand chosen by customers again and again."
This is the second consecutive year that a hatchback won the award. The Volkswagen Golf got the trophy last year, making history as the first-ever non-Japanese automobile to bag the award.