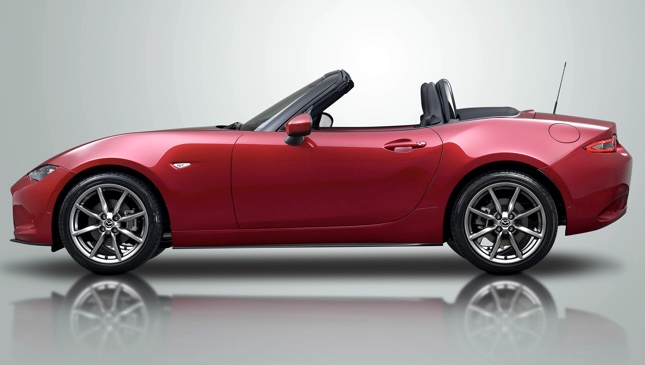 If you regularly follow our website, you know that the launch of the all-new Mazda MX-5 is just around the corner--it's next month, in fact, according to Mazda Philippines' own announcement back in April. With that announcement came pricing estimates for the car: "The manual transmission will cost under P1.8 million, while the automatic transmission will sell for under P2.0 million." Mazda will introduce the 2.0-liter Skyactiv MX-5 in our market, equipped with either a six-speed manual or six-speed automatic transmission.
Today, Mazda Philippines (aka Berjaya Auto Philippines) revealed for the first time the official introductory prices of the popular roadster during the monthly gathering of Miata Club Philippines. According to the distributor, the all-new MX-5 will sell with the following price tags:
* 2.0 MX-5 AT - P1,860,000
* 2.0 MX-5 MT - P1,680,000
Mazda Philippines also gave the Miata club a sneak peek into the features of the automatic-transmission MX-5: leather seats (Soul Red and Ceramic), nine-speaker Bose audio system, and paddle shifters with sport mode.
Steven Tan, president and CEO of Mazda Philippines, told TopGear.com.ph that the members of Miata Club Philippines "clapped" after he made the pricing announcement.
All MX-5 units are manufactured at Mazda's Ujina plant in Hiroshima, shared Tan.
"We had been discussing the price with Mazda Japan for nine months, and we just concluded two weeks ago in Japan," Tan said. "In the end, we decided that making the MX-5 accessible to more people is an important strategic decision for the Philippine market. Having such an active and visible Miata club in the Philippines also helped tremendously in the pricing discussion."
Continue reading below ↓
Recommended Videos
Tan added that "even at this price point, the new MX-5 breaks new ground in innovation, engineering and design."
Okay. You should probably reserve a unit starting tomorrow. All 35 units earmarked for the Philippines from the car's June production have already been snapped up, Tan pointed out. Delivery of the units in our market will commence in early August.