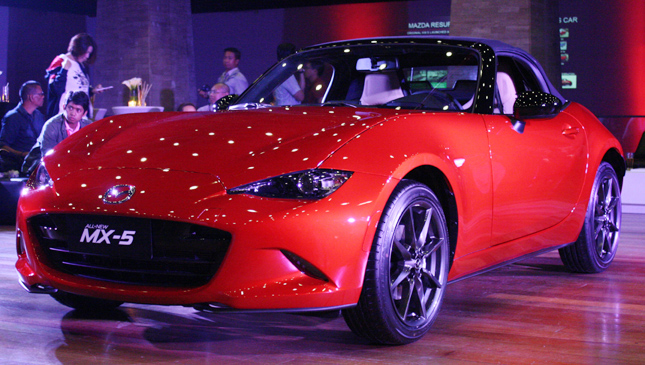 There's more to a car than four wheels and an engine. Designers and engineers search every nook and cranny for the inspiration necessary to breathe life into a project, in hopes of making a vehicle that connects with a driver rather than just transports him. The people at Mazda know this, and none better than Tom Matano himself, the man behind the exterior design of the first-generation Miata (aka MX-5).
Matano was present Thursday night for the Philippine launch of the all-new Mazda MX-5, and the designer nearly stole the show from the roadster itself and its much-younger designer (who was also in attendance)--hard to believe considering the new roadster's eye-catching design. The MX-5 exterior features added depth to the Mazda Kodo design language in the form of sleeker-looking headlights and sweeping lines that converge right before the vehicle's rear tires and sweep over the rear fender. The car maintains the unmistakable shape and proportions of a Miata, with a handful of new accents to the body and trim.
Interior-wise, the new MX-5 boasts a cockpit design where the body panels wrap around the door trim, allowing the exterior and the interior to blend seamlessly into one another to give the sports car a more spacious appearance. Knobs and dials are highlighted via chrome accents, while a seven-inch touchscreen controls the infotainment system. The interior comes in black or tan leather, or black fabric.
Continue reading below ↓
Recommended Videos
The Philippine-market MX-5 will be running on a 2.0-liter Skyactiv engine rated at 158hp and 200Nm, and mated to either a six-speed manual or six-speed automatic transmission. Standard features include dual airbags, rear parking sensors, keyless entry, and an immobilizer. You can get the car in Soul Red, Ceramic, Crystal White Pearl, or Jet Black. We've announced the prices, but here they are again:
* 2.0 MX-5 AT - P1,860,000
* 2.0 MX-5 MT - P1,680,000
Matano expressed his satisfaction with the design of the all-new MX-5, calling it a good successor while emphasizing the car's legendary appeal. "The new Miata is a good successor with more modern touches," he said. "More modern touches than the previous generation, and that's what we needed it to be. More modern, not retro, but still unmistakably Miata. A hundred meters away, the car comes out and you know it's a Miata or MX-5. This car fits into that particular dimension that we need."
Will the new Miata be able to build on the legendary success of its predecessors? With its sleek design, classy interior and universal appeal, we certainly think so.
Photos by Drei Laurel