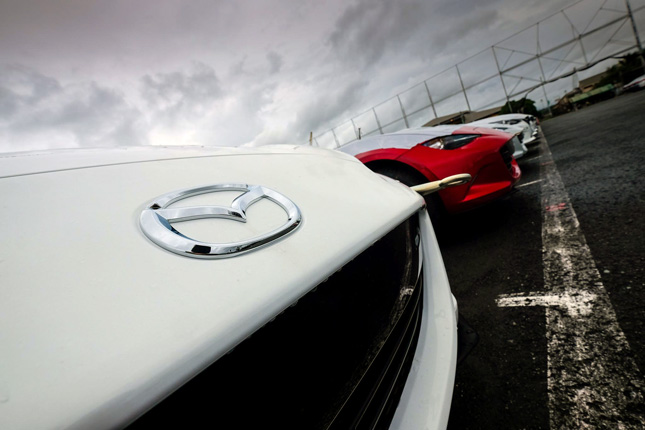 One of the most awaited car models in our market right now is the all-new Mazda MX-5 roadster. The excitement almost approaches the levels we saw when Toyota brought in the 86 three years ago. And that's understandable, considering that the Miata (another name for the MX-5) is an affordable sports car just like the 86.
Mazda Philippines already announced the official pricing last month, and now it's all really just a matter of having the actual units arrive on Philippine soil. Well, that happened yesterday, when 28 units of the fourth-generation MX-5 were offloaded together with other Mazda vehicles at the Bauan International Port in Batangas.
All units had been manufactured in Japan.
Mazda Philippines president Steven Tan invited us to view the fresh fleet, so we sent our photographer Mikko David to document the cars. Our lensman was accompanied by Mazda Philippines PR manager Sherlyn Co and product supervisor Mark Balmaceda. In all our years covering the motoring beat, this is the first time an automotive company gave us full access to a newly arrived fleet that included a hot model. And it's sort of refreshing, indicating perhaps that Mazda has nothing to hide when it comes to its cargo shipment, and that all duties and taxes are properly settled by its local distributor.
Continue reading below ↓
Recommended Videos
"Barely two weeks after the first batch of the all-new MX-5 Skyactiv reached the US, the first Philippine-bound batch of MX-5 units from the same Hiroshima production facility rolled onto our port in the Philippines," Tan told TopGear.com.ph. "All units had been pre-booked many months before the price announcement last month, with the majority of them going to members of Miata Club Philippines. Delivery of the cars is expected to be sometime early August."
According to Tan, three units will go to the company fleet of Mazda Philippines, while 25 will be sold to lucky customers.
In honor of these 28 units of the all-new Mazda MX-5, here are 28 images (including the main photo) of the popular roadster taken at the Batangas port. Go ahead: It's perfectly okay to drool. Enjoy!
Photos by Mikko David