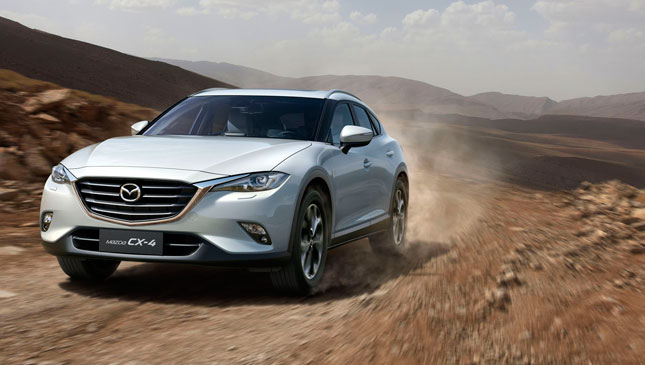 After a teaser last month, Mazda has finally revealed the CX-4 crossover SUV ahead of the Beijing Motor Show, where the new model will be displayed. Its name would suggest it slots between the CX-3 and the CX-5, but the official numbers show that this isn't the case.
Based on the specs, the CX-4 is longer than both the CX-5 and the CX-3, as wide as the CX-5, but also the lowest in height among the CX family. This means the new offering from the Hiroshima-based carmaker is more crossover than SUV.
Like all the other current Mazdas, the CX-4 adheres to the Kodo style language. While the coherence of the look across the model lines can cause confusion because they look virtually the same, we're not complaining when the end result is this good.
And where Kodo goes, Skyactiv follows. Two powerplants were announced: 2.0-liter and 2.5-liter Skyactiv-G engines. Transmissions will be a six-speed manual and a six-speed automatic, connected to front- or rear-wheel-drive systems. Knowing Mazda's production methods, you can expect the safety and entertainment systems of the CX-5 to be present on this China-only (so far) model.
"The CX-4 is our fourth new-generation model in China," said Nobuhide Inamoto, a senior managing executive officer overseeing operations in China. "Demand for SUVs here is remarkably strong, and we expect this model will play a big part in expanding the Mazda brand in this market. We will continue working to strengthen our brand in China, aiming to become a brand that enriches people's lives through cars."
Continue reading below ↓
Recommended Videos
As already mentioned, Mazda has not declared any plans to sell the CX-4 outside of China, and that's a shame. With the arrival of the CX-3 in seeming limbo this year--unless Mazda Philippines pulls a surprise on us--it looks like we'll have to wait for some time before we see a new CX model in our market.