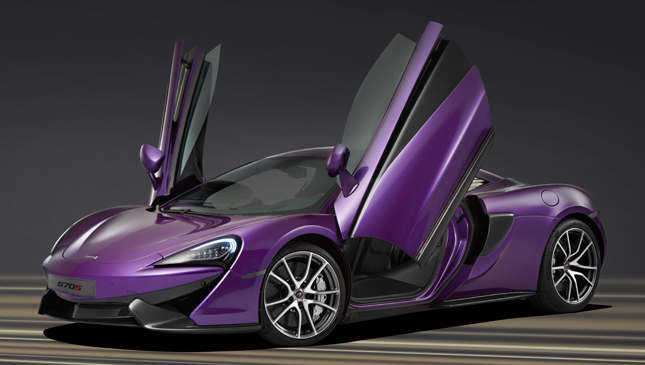 If you own a supercar, it's a given that having someone else own the same car at the country club is a rare (and annoying) occurrence. You buy the car not only because you can afford it, but also because you want to stand out. Ferraris, Lamborghinis, Koenigseggs and McLarens are just some of the steeds of choice.
For some owners, however, owning a multimillion-dollar exotic car just isn't exclusive enough. These are the folks that divisions such as McLaren Special Operations (MSO) are aiming at--to create cars that only they can have, not to mention can afford. First seen in 2011 at the prestigious Pebble Beach Concours d'Elegance, the bespoke service returns four years after with a few models that will make any car guy salivate.
Fancy a 675LT? MSO is offering the track-focused yet road-legal model in Super Series guise. The car is so light that it can rocket from rest to 100kph in a mere 2.9 seconds and reach a top speed of 330kph. Tough luck in getting one, though, as all 500 units have already been spoken for.
Then there's the even more exclusive 650S Le Mans, created specifically to celebrate the 20th year after McLaren's successful run in the prestigious French endurance race. The awesome supercar takes styling cues straight from the legendary F1 GTR with chassis #01R, complete with such touches as a functional roof snorkel, alloys inspired by the original 1995 race car, and front wing louvers. The car is painted in the same orange finish used by founder Bruce McLaren in the '60s. How bespoke is the 650S Le Mans? Oh, there are only about 50 examples--again, all sold out.
Continue reading below ↓
Recommended Videos
If you can't have the first two models, than maybe you'd want to try your luck with the upcoming 570S, in MSO trim of course. One of these Sports Series models will be finished in Mauvine Blue with a carbon-black interior with color coordination from the exterior paint scheme. If blue isn't your color, there will be another 570S Coupe, this time clad in Ventura Orange and comes with a host of MSO styling and performance parts. Both cars, by the way, will take their place at the Concept Lawn, a spot reserved for only the best of the best, including McLaren's very own P1 GTR Design Concept.
If you want some vintage metal, McLaren will be displaying an ultra-rare 1996 F1 GTR that is being lent by BMW USA. Team Bigazzi drove the car, bearing chassis #17R, to an eighth-place finish at the 24 Hours of Le Mans.
And if you desire something a bit more "attainable" yet still truly special, McLaren will be putting up for auction two cars for the discriminating collector at the event's RM Auction. One of these is a Volcano Red McLaren P1, which only saw 375 copies. The McLaren F1 with chassis #073, on the other hand, has been made even more coveted, thanks to a slew of LM upgrades.
Get to see these beauties at this year's Pebble Beach Concours d'Elegance in California. As for us mere mortals, we can simply stare in awe (and dripping saliva).