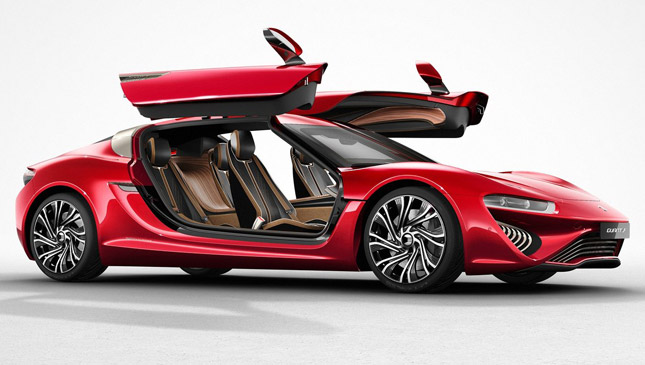 Before we proceed to the car story, a short geography lesson first. There is this independent principality (as in like Monaco) in Europe called Liechtenstein. It's sort of sandwiched between Austria and Switzerland, and the people there speak German. It's perfectly understandable if you haven't heard of the place--we haven't either.
Why this bit of trivia?
Well, apparently, the microstate has given birth to a new company called NanoFlowcell, which is an up-and-coming firm specializing in electric cars. Kind of like Tesla. Except its cars--concept ones for now--look otherworldly. So otherworldly, in fact, that we're calling on Michael Bay to cast this one right here, the Quant F concept, to be an Autobot in the next installment of the Transformers film franchise. This extraterrestrial-looking metal was displayed at the 2015 Geneva International Motor Show.
As far as we can tell, this is not exactly an all-new concept car. The company also flaunted a concept car called the Quant e-Sportlimousine at the Geneva show last year, and it looked almost exactly like the Quant F, save for very subtle variations here and there.
The Hollywood director will be delighted to know that the Quant F is a four-seater "e-sports sedan," which means he can take three nubile starlets along for a joyride down Sunset Boulevard during shooting downtimes. Should these babes ask about the car's propulsion--which probably won't happen as long as he keeps entertaining them with promises of "meaty roles" in his movies--he can take it from NanoFlowcell's chief technical officer, Nunzio La Vecchia. "With the Quant F, we are currently able to attain peak output of 801.69 kW for a limited duration and a maximum rated voltage of 735V," says La Vecchia. Probably not enough power for Optimus Prime and company, but definitely more than adequate for some hot laps around your favorite racetrack.
Continue reading below ↓
Recommended Videos
A newly developed two-speed automatic transmission is said to be mated to the electric motor, which, by the way, is capable of catapulting the Quant F to a top speed of more than 300kph. It should be interesting to see if Bumblebee can keep up on four wheels.
Here's the truly impressive part: For all of the Quant F's sportiness and size (it's 5.25m long), it's actually pretty efficient. NanoFlowcell quotes an all-electric driving range of 800km. Damn it. The Decepticons would love to have that kind of staying power.
Anyway, here's hoping Michael Bay stumbles upon this piece. (Sir, please also cast Emma Stone; she'd look good driving this thing. In stilettos.)