Here's the Nissan IMQ, folks. Let's break down that name. 'IM' stands for 'Intelligent Mobility,' the umbrella title Nissan gives its future-thinking, self-driving, and electric-propulsion ideas.
And the 'Q'? Well, which wildly popular car in the Nissan lineup starts its letter-jumble name with a Q? Yep. This isn't the new Qashqai, but it gives a glimpse of the ideas that'll appear in one. And, potentially, the next Juke, X-Trail, and beyond.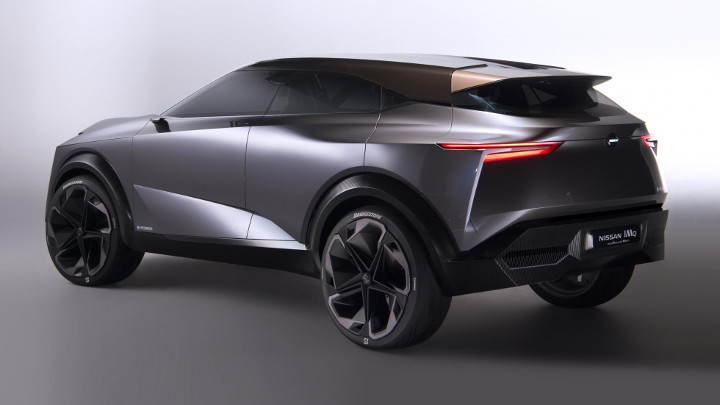 ADVERTISEMENT - CONTINUE READING BELOW ↓
Of course, it's electric. Two motors deliver a total of 335hp and 699Nm to all four (giant) wheels, and that's all jolly exciting, on paper. But really, the IMQ isn't here to wow you with Tesla-baiting drag-strip teleportation.. The powertrain isn't the headline. This concept's about the looks.
Because while the oddball Juke has always been controversial, the Qashqai and the X-Trail...haven't. What if they looked a bit more edgy? More Japanese? How would ditching old-fashioned engines in favor of batteries and e-motors alter what Nissan's design team can dream up? The IMQ is a glimpse of that future.
Design boss Matthew Weaver explains that Nissan wants to rebel against the rest of the industry: "We do try and push envelopes. The industry is full of Russian-doll design, which Nissan doesn't want to do. We enjoy that freedom. It gives us room to move and explore. The customer responds to that. The Juke customer is completely different to a Qashqai buyer and so is the usage of the car. As a designer, personally, it's much more interesting to do different DNA."
ADVERTISEMENT - CONTINUE READING BELOW ↓
Recommended Videos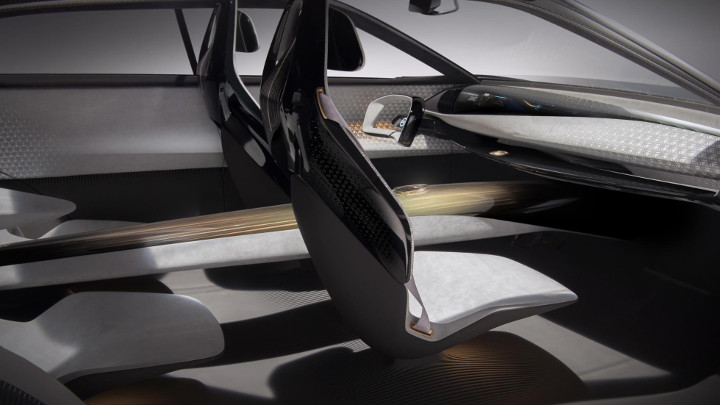 There's lots to take in here. The slashes in the wheelarches, to make the rufty-tufty arches look less...dull. A flourish, sure, but an interesting one. It's continued in the not-a-grille up front, and the rear bumper, which hints at having exhaust pipes, but doesn't dress the car up with fake ones. Good.
ADVERTISEMENT - CONTINUE READING BELOW ↓
Bit Lexus, isn't it? All angular and manga. Well, Nissan's design team says the idea is to make the IMQ carry a more Japanese flavor, but one that's less aggressive, less in-yer-face, than Lexus. Of course, it's got a Japanese name to match—'ma', a principle of calmness with occasional excitement. How does that manifest into a Nissan crossover? Well, smooth surfaces, and a few really bold lines, rather than loads of swirling, swoosh details.
"The more [safety and legislative] restrictions you get, the more I enjoy it," says Weaver, "because it gives us barriers to break and constraints to work against. In fact, I think if you don't have those restrictions, you can go a little bit wayward in design." No names mentioned there...
"Nissan is all about reinvention at the moment," he continues. "Here, we're trying to reflect the topic of Intelligent Mobility. The dream is to get these kinds of things into production!"
ADVERTISEMENT - CONTINUE READING BELOW ↓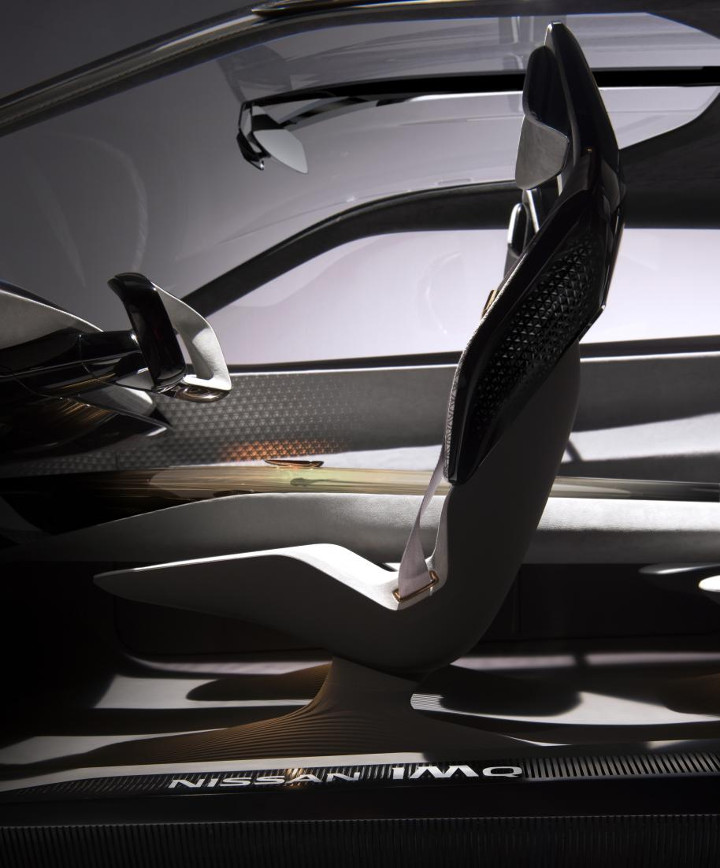 Inside, it's a lot more zen. Only four seats, 'floating' on single plinths, more of those curious grooves in the floor, and a fully-digital dashboard display that looks through a giant glass bezel. The glassiness idea is carried on in the roof—the windshield wraps around the A-pillars to create a giant goldfish-bowl bubble. Great for visibility and a feeling of space. Not so clever if you get a stone chip. Unlikely to make production, that detail.
ADVERTISEMENT - CONTINUE READING BELOW ↓
Mind you, neither is a dashboard with no vents, a steering wheel with no buttons, or that most classic of concept car features, suicide doors. Again, this is Nissan's design team fantasizing rather than future-proofing. The giant digi-dash is supposed to hint at how cars of the future will need to share their infotainment and function with the whole cabin, and seem friendly and uncomplicated to operate.
And then there's the bonkers stuff. Nissan has literally built an imaginary friend into the IMQ. "Drivers may even enjoy the company of a virtual passenger, in the form of a 3D augmented-reality avatar inside the car," they tell us. Because in the future, who needs real friends?
So, what are you hoping makes it into your next Qashqai or X-Trail? All-electric autonomous drive, edgy Japanese looks, or a digital holographic pal to chat to in traffic?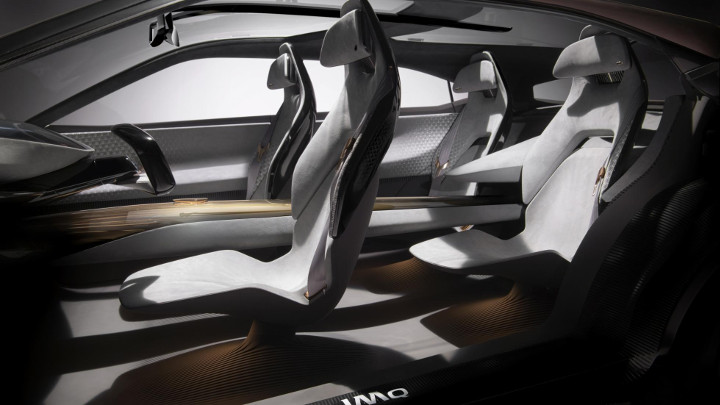 ADVERTISEMENT - CONTINUE READING BELOW ↓
NOTE: This article first appeared on TopGear.com. Minor edits have been made.