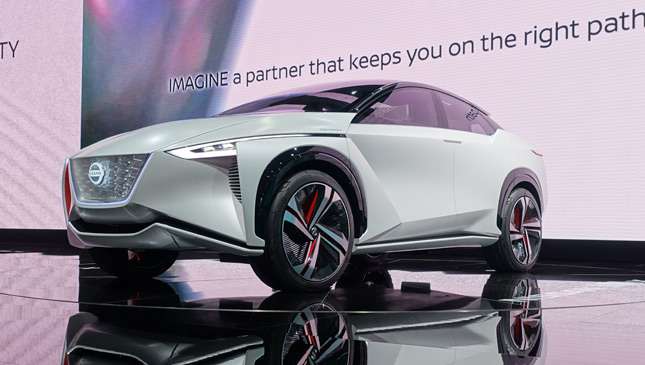 Consider this as the concept car that will start it all—Nissan's take on how cars are "powered, driven and integrated," that is. Launched at the 2017 Tokyo Motor Show, the IMx Zero-Emission Concept is a crossover EV that is said to be "not just an idea."
The company's executive vice president for global marketing and sales, zero-emission vehicles and the battery business Daniele Schillaci declared during the launch: "It is our view of the future of mobility. And not in the distant future, but in the very near future."
How soon, then? Nissan's chief planning officer Philippe Klein confirmed that we won't be waiting long. "You can expect us to launch a crossover EV in the next few years," he said during a media interview.
Continue reading below ↓
Recommended Videos
During a tour at the Nissan Advance Technology Center, we're told its nameplate stands for Intelligent Mobility experience and Intelligent Mobility crossover. Capable of 320kW of power (about 430hp) and 700Nm, the IMx concept crossover has a range of more than 600km on a single charge.
The concept EV will have the future iteration of the ProPilot technology, which will make possible fully autonomous driving. The current version of this driving tech is available in the all-new Nissan Leaf, but it only works seamlessly on single-lane highways with the driver still required to grip the steering wheel.
The IMx, on the other hand, will have two driving modes: manual and ProPilot. When the latter is selected, the steering wheel is stowed and all the seats are reclined, as if everyone, including the driver, is being chauffeured. If you opt for the manual mode, you get to take control, so the tiller and seats revert to their positions.
Other noteworthy futuristic features include wireless charging of its battery, and giving power back to the grid. So after bringing you to the airport for a week-long vacation, it goes home, parks itself and shares its power while not in use.
Despite packing a lot of tech, its cabin features a minimalist design, and its cockpit has fewer physical switches and controls. Thanks to artificial intelligence, the driver doesn't need to repeatedly press buttons to go through a menu. Instead, the instrument panel can be controlled through eye movements and hand gestures.
The IMx may have the raised ride height familiar with crossovers, but its lines and windshield suggest a sporty identity. It carries the brand's signature V-motion grille, and its front fenders extend to the sides.
If we're looking at the future of crossovers, it's looking bright and we're excited.