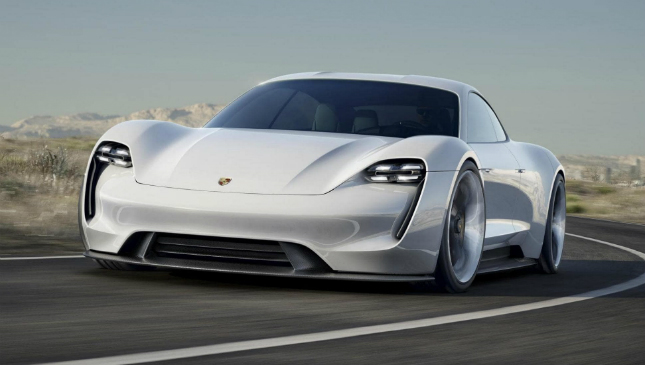 Big news. Up until now you've known Porsche's all-electric performance car—due next year—as the Mission E. That was a good name; futuristic, optimistic and powerful. But Porsche has now put that name in the trash: the impending 600hp four-seat EV has been christened 'Taycan.'
We're told that the name can be roughly translated as "lively young horse" in a Eurasian dialect. However, Porsche seems confused as elsewhere it refers to it as a "spirited young horse." Either way, and even if it is a nod to the brand's famous crest, it's a bit of a crap name for a potentially pioneering electric car.
ADVERTISEMENT - CONTINUE READING BELOW ↓
As a reminder, the Taycan is the car that Porsche is lining up to take on the might of Tesla. And what we know so far is that it'll both be very fast on the road, as well to juice up.
Earlier this year, Porsche told TG that it will do 0-100kph in 'less than 3.5 seconds,' get to 201kph in 'less than' 12 seconds and have a top speed of 'more than' 249kph. That speed is brought about by a pair of powerful motors, front and rear, totaling 'more than' 600hp. They're the permanent magnet synchronous type, as used by Nissan and others. They're more power-dense and temperature-stable than Tesla's induction motors.
To keep the acceleration strong all the way to top speed, two-speed gearboxes will be used. The 918 decouples its front motor at speed; it's conceivable the Mission E will have a two-speed box at the back and a decoupling clutch at the front. It's fundamentally a rear-biased car anyway, as the rear motor is more powerful than the front.
ADVERTISEMENT - CONTINUE READING BELOW ↓
Recommended Videos
Braking is going to be pretty amazing too. Porsche confirmed that the Taycan will have computer 'blended' braking where the pedal is effectively a request for retardation rather than a mechanical link to the discs. A computer works out whether to get that retardation from the discs or the motors. And, because the battery runs at 800 volts and can accept 350kW of charge, the regen can be super-strong.
But the Taycan won't have an engine sound. Because no engine. Porsche R&D chief Michael Steiner says: "It needs to be low noise, but with more emotion. But not a false V8 or flat-six sound. We could synthesize that, but it would be silly. The sound will be linked to the technology."
ADVERTISEMENT - CONTINUE READING BELOW ↓
Charging? Well, that'll be 15 minutes on the right charger from flat to 80% charged. By about 2020, there will be a network of these chargers across continental Europe, no more than 121km apart. They also include a contactless payment system, so as soon as you drive up they're ready to go. Stop, wee, espresso, a few texts, get on your way.
These are the chargers of the Ionity network Porsche is investing in jointly with Mercedes, BMW, Ford, and Audi. But only when plugged into a Porsche will those chargers deliver the full 800V (for 350kW) that allows such fast charging, because the Porsche has the onboard electronics and cooling that can cope.
We're told the Taycan is supposed to do 500km,but that's on the NEDC cycle. The real-world will be a lot less. Maybe 354km at UK highway speed. (A Tesla Model S 100D is 632km NEDC but even Tesla says 449kph at a steady 121kph). So that 80% charge would be 282km. Now your route planning would have to be perfect (and your bravery gigantic) to arrive at the charge point with zero miles on the range-meter. All EVs have that trouble, mind. And if you want to get to a destination 354km away, and then trickle-charge when you got there, well you could do it non-stop.
ADVERTISEMENT - CONTINUE READING BELOW ↓
Forget the raised chassis and body cladding of this year's concept car that TG UK recently drove. The Taycan will be sleek and low, like the very first Mission E concept from September 2015. It won't get the clap-hands doors, though, or quite such wide hips. Because, you know, it's not actually a concept car.
Weight? We don't know an exact figure, but we're told the body will be built of a combination of materials—aluminum panels, magnesium castings, high-strength steel—just like the 911. And remember, the 911 somehow manages to be lighter than its pure-aluminum rivals.
Exciting times, eh? No matter how crap the name is. If you're not convinced, click here for a full rundown on the Taycan. Then tell us what you think it should be called below.
NOTE: This article first appeared on TopGear.com. Minor edits have been made.