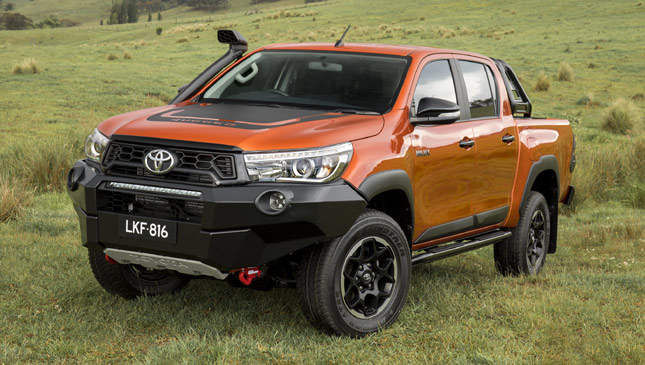 When it comes to pickup trucks, few countries knows how to do them like the land Down Under. Need proof? Take a look at Australia's latest market-exclusive "halo" Toyota Hilux variants: the Rugged, Rugged X and Rogue.
The first two vehicles were designed with taking on the outback in mind, and were "engineered and validated" with a little help from Toyota's divisions in Japan and Thailand. Development consisted of computer simulations and real-world testing "to confirm strength and durability of the vehicle and individual components."
The Rugged X gets a high-strength alloy bash plate for extra durability, recovery points, a front bar with winch capability, LED lights, a sports bar and a bunch of other brutish bits. Meanwhile, the Rugged comes equipped with a more intimidating design up front and a steel bull bar. As for the Rogue, it's going for more of a sporty appeal rather than a get-anywhere sort of vibe, but boasts several styling and durability improvements, too.
Continue reading below ↓
Recommended Videos
Toyota Australia head of product planning Rod Ferguson says these trucks are proof of the company's understanding of the local taste, which he claims consists of dusty paths and intense river crossings. "It was natural for our team to focus on Hilux: It's Australia's best-selling vehicle and owners customize their Hilux more than any other model in our range," he said.
Jealous much? Toyota Motor Philippines just introduced a new variant of its own, the Hilux Conquest. But if you ask us, with the state of our roads now, we could use something as rugged as what the Aussies have.