All the cars of the 2018 Specialty Equipment Market Association Show (SEMA) are now rolling out of the woodwork. Over-the-top SUVs, JDM legends, slammed supercars, and towering trucks—if a car has an aftermarket following, it's bound to be at the event.
There are a ton of nameplates to gawk at here from just about every major manufacturer, but arguably our favorite is the all-new Toyota Corolla Hatchback. The Japanese carmaker is showcasing a handful of them during this year's show, and boy, is it making us jealous of markets that have the sporty hatchback. Take a look:
Super Street Toyota Corolla Hatchback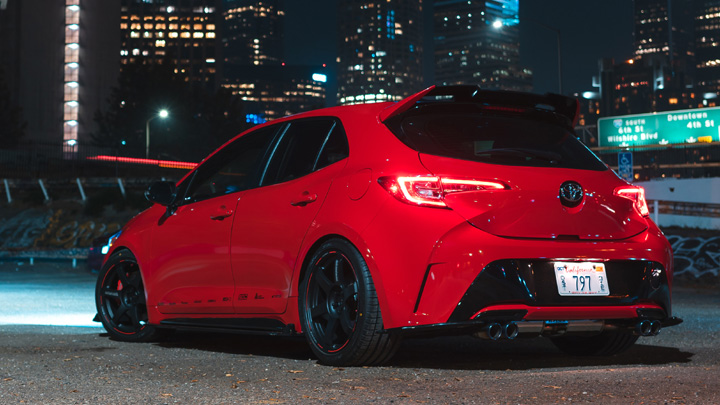 Continue reading below ↓
Recommended Videos
This track-inspired build comes courtesy of Super Street, and flaunts a striking red paint finish and a sporty custom aero kit. It comes with an HPS air intake, a titanium-tipped quad exhaust system from A'PEXi, a big-brake kit up front, and Corbeau bucket seats inside. It also rides on a RS-R coilover suspension and lightweight Volk wheels wrapped with Falken FK510 high-performance tires.
Muscle Tuner Automotive AE86 tribute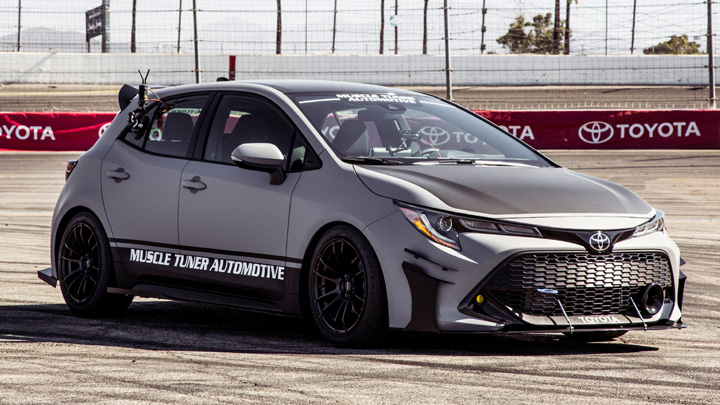 "We're true enthusiasts who grew up loving and working on cars from a very young age," says Muscle Tuner Automotive founder Alex Molina. "With this build, we wanted to pay homage to the AE86 Corolla GT-S. We wanted to keep the look clean, but also serious and race-inspired, and we wanted to bring its handling and acceleration in line with that of a true sports car."
Under the hood is a modified engine featuring a custom three-inch cold-air intake, and it also comes equipped with a straight-pipe exhaust system. The car is underpinned by a prototype suspension system from RS-R Japan, and rolls on featherweight Rays Engineering 'Gram Light' Model 57 wheels and Bridgestone RE-71R performance tires. Oh, and it has nitrous.
Hoonigan's Toyota Corolla Hatchback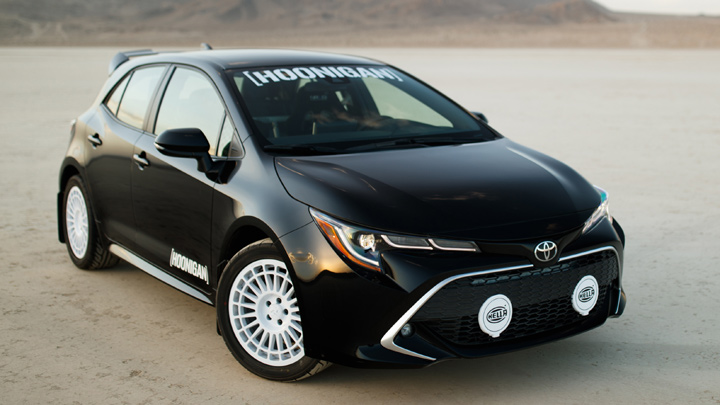 Leave it to world-renowned car photographer and Hoonigan project manager Larry Chen to turn a humble Toyota hatchback into a rally-inspired production pursuit vehicle.
Mods include RSR Performance springs and ST Suspensions spacers, 17-inch fifteen52 Integrale wheels, and Yokohama Advan Neova tires. There's an HPS Performance-supplied engine air intake and an Ark Performance exhaust, too. On the production side, this car has been fitted with a Motocrane Ultra crane, a Freefly Movi XL gimbal, a Red Dragon camera, a Canon 17-120mm lens, and a Tilta Nucleus focusing system—all controlled via joystick from inside the hatch.
"When I saw the new 2019 Corolla, the first thing I thought of was a rally car," says Larry Chen. "It also makes an ideal pursuit vehicle. It's more maneuverable than traditional chase cars, which are usually bigger SUVs, and it has a smaller footprint in general."
SoCal Kustomz Hot Rod hatch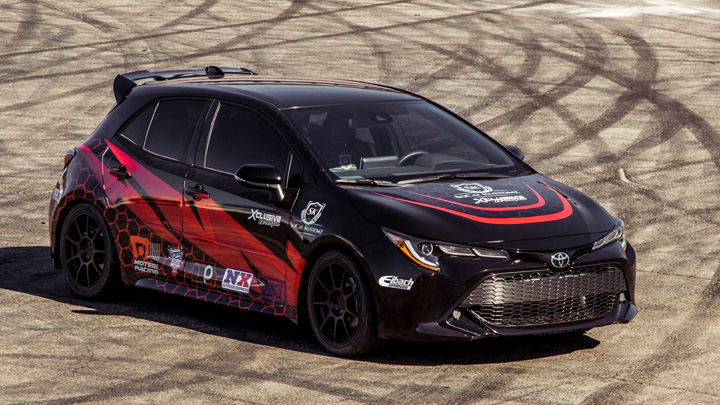 "We have been building cars since we were teenagers, but this is our first SEMA build," SoCal Kustomz founder Julio Ixta tells Toyota. "A lot of our experience is with restoring classic cars, so the brand-new Corolla Hatchback was a different kind of challenge that we were excited to undertake."
This hatch features a custom coilover suspension, lightweight Motegi Racing MR138 wheels in satin black, and Nexen N'Fera SUR4G high-performance tires. The interior, meanwhile, flaunts custom black leather upholstery with contrast stitching. Capping the build is a race-inspired vinyl wrap inspired by the 1995 Toyota Supra Turbo from The Fast and the Furious.
Toyota Drift Demo Corolla Hatchback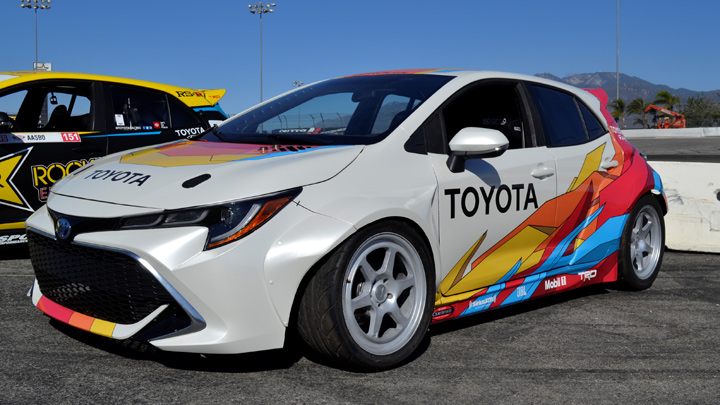 This one comes courtesy of Toyota Racing Development and Papadakis Racing. The biggest challenge? Converting the FWD Toyota into a RWD drifting machine.
"There's nothing easy about making a front-wheel-drive car into rear-wheel-drive," says team manager Stephen Papadakis. "We had to modify the rear subframe to accept the differential. We had to cut the middle of the car apart to build a tunnel for the transmission and driveshaft. We designed and machined all the billet suspension components."
Underneath its hood is a turbocharged, nitrous-oxide-assisted 2AR-FE four-cylinder engine capable of a whopping 850hp. Stoptech brakes modulate speed. The whole thing rides on Motegi Racing wheels and Nexen N'Fera SUR4 tires.