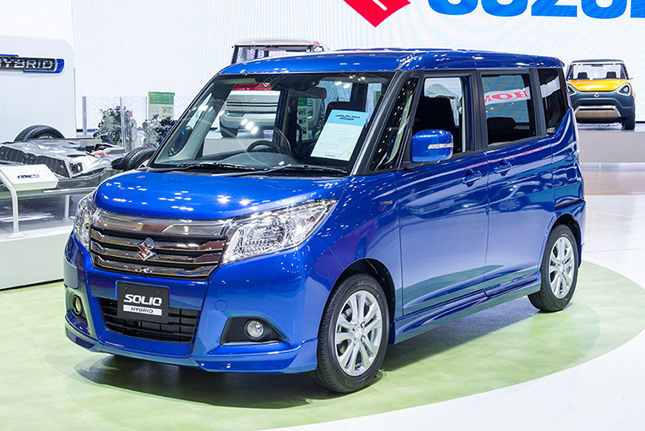 As early as a month before the doors of the Tokyo Big Sight convention center opened for the 44th Tokyo Motor Show, Suzuki already whetted our appetite with what we could expect to see. We saw concepts like the Mighty Deck, the Air Triser, the Ignis, the Ignis Trail, and a couple of production vehicles like the Vitara and the newly launched Baleno hatchback. But now Suzuki has revealed its entire hand.
One of the cool little cars it introduced is the Solio Hybrid. We say "little" because that's what it really is: a compact car that promises lots of space for occupants inside. This is made possible by its rather boxy style, along with a space-saving design for its mechanicals. The hybrid name connotes that there is an electric motor, which helps provide more power during acceleration. It can also be used on its own to help save on precious fuel.
Another cool Suzuki worth looking at is the Hustler mini crossover. The face-lifted version of the Hustler model sold in Suzuki's Japanese home market features the J Style II package. This treatment includes stuff such as a metallic grille, front bumper garnish, and a blacked-out instrument panel. Don't let the mini crossover moniker fool you, as the Hustler is filled with tech goodies under the skin. These come in the form of the S-ENE Charge system that helps give the turbocharged motor a bit more juice and save on fuel. Apart from these, it likewise features a Dual Camera Brake support system for the utmost in safety, as well as a navigation system with memory for total convenience while on the go.
Continue reading below ↓
Recommended Videos
The Hustler is available in cool "pop art" colors like yellow, green and ivory. The yellow hue, for instance, is complemented by a contrasting black roof and yellow dash accents.
Those looking for something a little closer to home will find the Alto Works truly exciting. Taking its cue from the Alto city car, the Works model packs a turbocharged engine mated to a short-throw five-speed manual gearbox. This helps bring out the most of that little turbo lump while providing the driver with a fun time behind the wheel. More enjoyment is provided by a quick-ratio steering system and racy Recaro seats inside.
Finally, Suzuki also showcased the Carry for Open-Air Markets truck. As the name suggests, it is a utility vehicle for business people who sell their wares in marketplaces. Fruits, vegetables and other goods can easily be loaded and sold right at the back of the truck.
With vehicles such as these, along with their other concepts, it looks like Suzuki has brought out the little big guns in Tokyo. It would be really cool to see some of these models head over to our market. Hopefully, Suzuki Philippines will oblige.