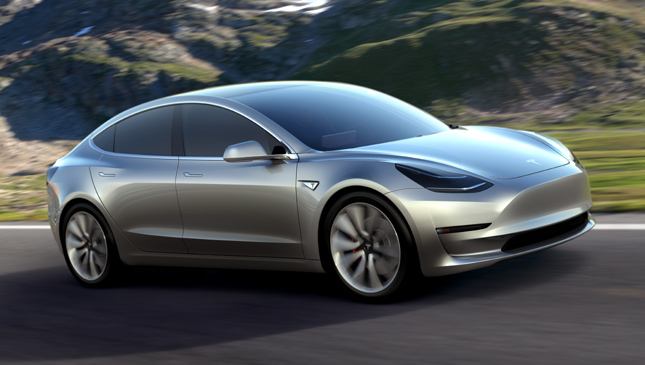 It began with the Roadster, a low-volume sports car that ran purely on electricity. This was followed by the swoopy and equally high-tech Model S full-size sedan. And with the world madly in love with crossovers, the Model X was naturally going to come next.
We're referring to Tesla Motors, the American company that seems bent on providing the future of transportation today. To show just how serious it is about electrifying the roads, the carmaker has unveiled what it calls the "third phase" of its master plan, the Model 3.
The newest model in the Tesla range is essentially a mass-market sedan that takes after its bigger and more expensive brethren. The shape, for instance, is a copy of the Model S, albeit in 8/10 scale. Just like the Model S, this vehicle features a few key innovations that not only make it truly cutting-edge, but also give the impression of a much bigger and more premium ride.
The roof, for instance, is replaced by a single piece of glass that gives an open-air feeling. The dashboard is also placed further forward for increased cabin space. This is possible since the car doesn't have an internal-combustion engine to hamper interior volume. And of course, there are two luggage compartments--one up front and another out back.
Continue reading below ↓
Recommended Videos
While the company hasn't exactly revealed the car's specifications, they have said that it will be powered by a couple of electric motors. Thanks to the enormous amount of torque generated, acceleration from rest to 100kph has been pegged at less than 6 seconds. And as with other electric rides, cabin noise is kept to a minimum.
Those who are concerned about range will be pleased to learn that the Model 3 can run about 350km on a single charge. Moreover, Tesla offers supercharging (or quick charging) as standard. Plus, a slew establishments offer destination charging, with the current number set to increase worldwide.
This car doesn't scrimp on cool toys, either. All variants will have the brand's famous Autopilot system that aids drivers and keeps them safe and stress-free. All these aim to provide more people with the joys of owning and driving a Tesla.
Set to be delivered next year, the Tesla Model 3 will have a price tag of $35,000 (P1,610,000 before taxes). In this price range, it seems truly promising. With this in mind, let's keep pestering our government to pass the Alternative Fuels Law real soon. Then maybe we can have a better shot at an electric motoring future.