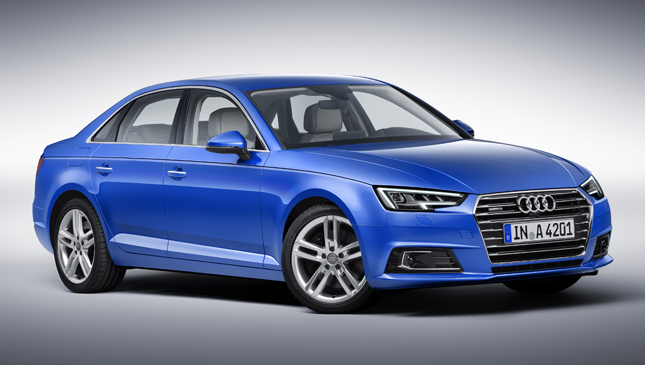 The Audi A4 may only be the compact offering in the German's brand hierarchy of models, but this doesn't mean the carmaker has scrimped on putting in the latest technology into its hot-selling sedan. This is once again reinforced as the car enters its new generation.
While the latest, fifth-generation A4 sedan may look like its predecessor in terms of design language, keep in mind that this is how Audi (and most of its sister companies in the Volkswagen group, for that matter) does things. Sticking to the overall shape, the new A4 features new headlights clusters, a new grille, and more pronounced lines on the side panels for a sportier yet elegant look. The high-tech part comes in the form of how the car cuts through the wind. The sedan, for instance, has a best-in-class drag coefficient of just 0.23Cd.
More tech goodness can be seen in the headlights that flank the new-design signature Singleframe grille. The light clusters now feature optional LED or Matrix LED technology that not only makes driving safer, but improves the A4's look as well. Thanks to lightweight materials and construction, the new A4 has lost up to 120kg, making it one of the lightest cars in its class.
All this lightness pays off at the pump. With a wide range of up to seven engines to choose from, Audi claims one of the highest fuel economy ratings, thanks to its powerful Turbo Fuel Stratified Injection (TFSI) and Turbo Direct Injection (TDI) motors. Buyers can choose from three TFSI gasoline or four TDI engines, with power outputs ranging from a low of 150hp all the way to 272hp. The 2.0-liter TFSI mill, for example, produces 190hp yet is still capable of yielding 20.8km/L.
Each of these engines can be paired with either a six-speed manual, a seven-speed S-tronic, or an eight-speed tiptronic automatic gearbox that powers either the front wheels or all four corners (Quattro all-wheel drive).
The all-new A4 is likewise available with selectable steering and suspension settings to allow drivers to tune the car to their desired driving style. The selectable suspension--a first for the A4--lets the driver choose between Sport and Comfort modes for the utmost in customizable driving.
Speaking of customization, the A4 also offers the Audi Virtual Cockpit that lets the driver choose the most pertinent information needed while driving, and displays them on a high-resolution 12.3-inch screen. You can also use the MMI controller--Audi's very own interactive device--that allows you to control various vehicle functions all from an 8.3-inch touchscreen or via the MMI knob and touchpad. You can even zoom in and out and use the system just like your smartphone.
The all-new Audi A4 will soon be available in Germany and other markets. We do hope to see it in PGA Cars showrooms soon.