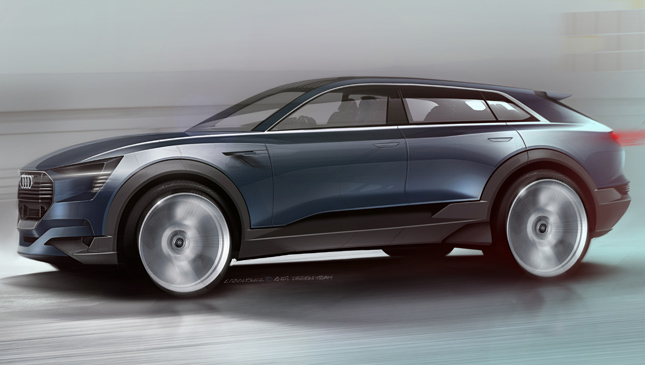 Wouldn't it be nice to live in a world where we could drive the car that we wanted, at a pace that we liked, without feeling guilty about wasting precious resources? Take SUVs for example. While a lot of us love them, many deplete gasoline like there's no tomorrow. Sadly, current EVs drive like golf carts.
Audi thinks that these compromises need not be the norm. Next month, it will reveal a concept that will give car buyers the best of all worlds: their ideal SUV with go-anywhere capability and excellent on-road drivability, but powered solely by electric motors. We're talking about the e-Tron Quattro concept.
The new concept features the trademark Audi design--meaning it has functional elements that are likewise pleasing to look at. It has movable aerodynamic bits set throughout the vehicle. These allow air to flow much better while the car cruises down the road, thus improving efficiency and performance. If you're wondering how big this SUV will be, imagine a vehicle that slots right in between the Q5 and the Q7. This gives it tidy dimensions with enough room for four to sit comfortably inside.
The e-Tron Quattro concept is based on the second-generation modular longitudinal platform, providing a lot of possible options for the drive system. For this study, it uses a large yet lightweight lithium-ion battery mounted between the front and rear axles, right underneath the passenger compartment. This gives the SUV a low center of gravity for balanced handling, not to mention a passenger cell that's truly spacious.
Continue reading below ↓
Recommended Videos
The vehicle will be powered by three electric motors--one on the front axle and two set on the rear axle. Using what Audi has learned on the R8 e-Tron, this drive system allows the SUV to travel for more than 500km on a single charge, thus eliminating range anxiety common among electric cars. Apart from this, the drive layout makes for true Quattro performance, giving the vehicle excellent on-road manners befitting a true Audi.
The Audi e-Tron Quattro concept is set for a global display at next month's Frankfurt International Motor Show. Beyond the show, Audi has likewise hinted that this concept could hit series production come 2018.