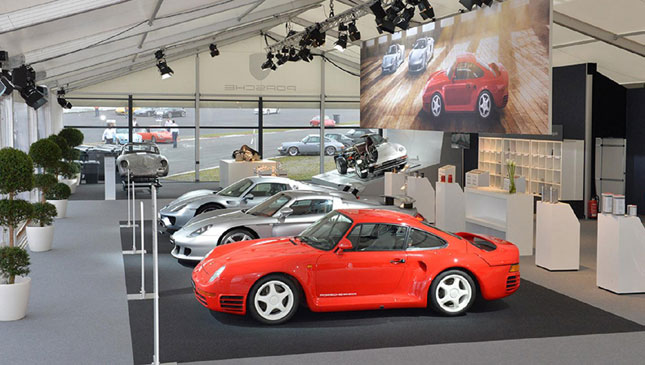 Many people consider growing old as a curse. But if you're more positive about life or have actually stared death in the face, you'd know that blowing out another birthday candle is something to be grateful for. In fact, you try your best to age gracefully, just like the finest wines--or the best classic cars. To stay fit, you'd eat right, get a lot of exercise and simply stay optimistic. Fighting aging is like getting original parts--just like those offered by Porsche Classic at the 43rd AvD-Oldtimer Grand Prix held at the Nurburgring.
The event was a showcase of old and new Porsches, including the Carrera GT and the 918 Spyder. There were even some rare and sought-after vintage examples, such as a recently discovered 1964 901. Of course, cars from the Porsche Museum, Porsche Exclusive and Tequipment were likewise on hand to grace the affair.
But the star of the show was actually a birthday celebrant--the legendary Porsche 959. The 959 began its journey some 30 years ago, winning numerous rallies the world over. This icon, however, isn't just a good-looking old-timer. In fact, it was one of those cars that was ahead of its time when it came to technology, thanks to a sequential turbocharged and intercooled 2.85-liter flat-six motor that produced a whopping 450hp. The power was transferred to all four wheels by a six-speed transmission and an electronically controlled four-wheel drive system, making it the fastest production car in the world at the time.
Continue reading below ↓
Recommended Videos
The 959 is likewise quite rare, having been limited to 292 units. Visitors to the show--held last weekend--not only got to see the rally version that was victorious in the 1986 Paris-Dakar Rally, but also got to marvel at its street-legal version. Now, isn't that a spectacle to behold?