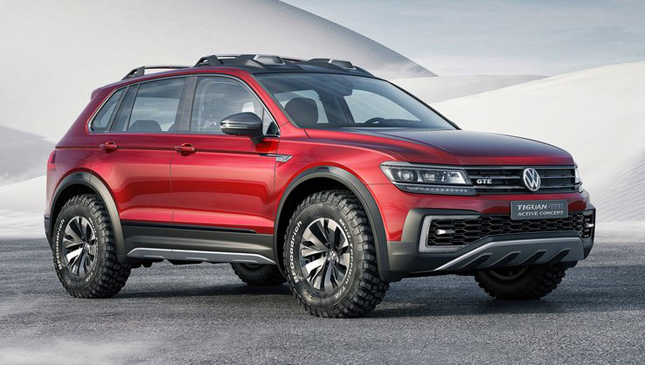 While there's little doubt that hybrid vehicles and alternative fuels have made great strides over the past few years, plenty of motorists are still reluctant to buy into the technology. For a lot of people, it's because hybrid tech costs a considerably higher premium than traditional vehicles. Others, meanwhile, just don't find them as exciting as their gas-guzzling counterparts. If you're one of the latter, there's a good chance this new concept from Volkswagen will help change your mind.
The Tiguan GTE Active concept is an electric-gasoline hybrid SUV based on the Tiguan. The vehicle has just been unveiled at the 2016 North American International Auto Show, and it might just be one of the most rugged--not to mention coolest-looking--hybrids we've ever laid eyes on.
Everything about this SUV's looks conveys an adventurous demeanor, from its authentic off-road look to its tough lines and proportions. It just looks like it's dying to get wild and dirty in the great outdoors--and it can. But the best part about the Tiguan GTE Active is that it can do so without harming our environment, thanks to an efficient plug-in hybrid system that utilizes two electric motors and a gasoline engine.
The system begins in all-electric zero-emissions rear-wheel-drive mode, but immediately adjusts upon detecting a loss of traction by engaging the front wheels as well. It also features a four-wheel-drive mode that is activated via the vehicle's Active Control and GTE mode, which utilizes all of the vehicle's electric motors in unison to provide full power. The concept SUV can cover up to a maximum of 32km in all-electric mode and can reach a distance of 930km using a 12.5kWh battery and a 64-liter fuel tank.
Continue reading below ↓
Recommended Videos
The inside of the vehicle features a clean, minimalist design that complements the tough, powerful exterior using brushed dark aluminum along the instrument panel and door trim panels. It also boasts two-tone Nappa leather upholstery, "Rhodium Gray" upholstered seat surfaces, armrests and door inserts, as well as an Active Info Display and a newly developed gesture-controlled infotainment system.
With the GTE Active, there's very little for traditional car lovers to complain about. It's high-tech and eco-friendly, and it looks to be exhilarating.