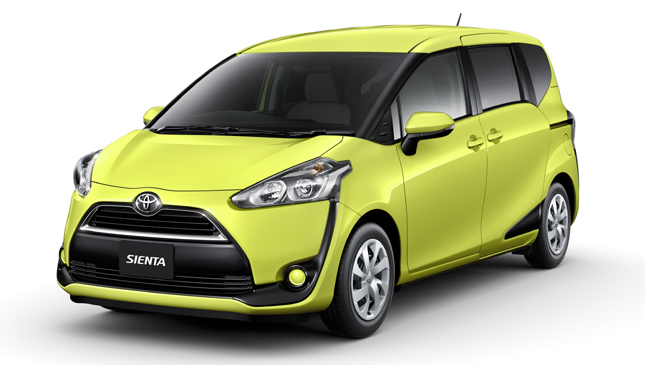 Minivans are a near staple of everyday modern family living. If you don't see them parked at the grocery, they're lined up along Ortigas or Katipunan on their way to pick up the kids after dismissal from school. For too long, minivans have been associated with the so-called "soccer moms," and now the leading Japanese carmaker hopes to change that with the all-new Toyota Sienta. A minivan with an attitude, if you will.
From bumper to bumper, you can tell that the Sienta isn't your average everyday sundo vehicle. The Sienta features a sharper, edgier design compared with other vehicles in its segment. The seamless flow of the front grille and the headlights all the way to the prominent corners in the back is a sharp contrast to the bulky minivans of old.
Inside, the Sienta features a curvy look with a minimalist approach to its color scheme. The instrument panel is simple enough, with all switches and controls within easy reach of the driver. A high definition multi-information display that will provide an entertainment-focused start screen and useful information such as fuel economy history and a drive tracking application, will be a standard feature in all Sientas.
The Sienta was designed with maneuverability in mind, with emphasis on making movement easier for passengers in the cabin, which is why a dive-in mechanism in the third-row seats was installed. This allows the seats to be reconfigured in a variety of ways, depending on your seating or cargo requirements. One arrangement might allow a few extra kids to sit comfortably in the rear, while another might make some room for a few mountain bikes for some off-road adventure.
ADVERTISEMENT - CONTINUE READING BELOW ↓
The 2WD Sienta runs on a 1.5-liter engine, and is capable of doing a claimed 20.6km/L. It also boasts state-of-the-art safety features such as Toyota's pre-collision system, lane departure alert, and automatic high beam. A wheelchair-adapted Sienta model has a slope for people with disabilities to easily make their way into the vehicle.
While the Sienta doesn't look like it will be hitting the Philippine market anytime soon, it certainly does look like a vehicle that could be popular with Filipino families looking for a more exciting minivan experience. The Sienta's combination of good looks, fuel economy and easy maneuverability makes it an interesting alternative to the current generation of multipurpose vehicles.