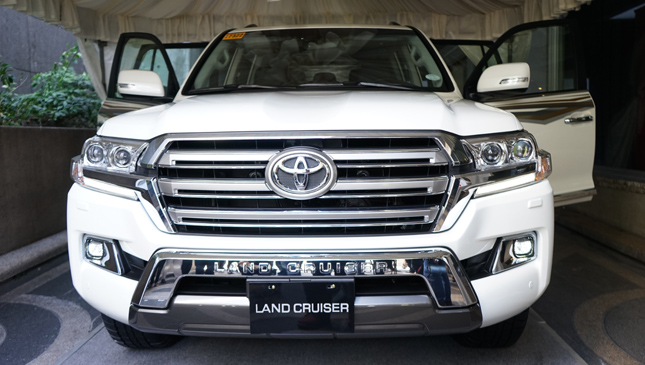 Toyota Motor Philippines has launched the refreshed Land Cruiser, now with a new premium variant. The SUV is still powered by the same 4.5-liter V8 diesel engine, but receives slight design changes to both the exterior and the interior. The big news is with the premium variant's new set of off-road features, but we'll get to that later.
The refresh has provided the Land Cruiser with a more aggressive look compared to before, thanks to the aesthetic update to its headlights and taillights, as well as the radiator grille. Inside, the vehicle's central cluster design has received a major overhaul, along with slight surface treatment revisions. The new Land Cruiser, though not very noticeable at first, is actually bigger in every dimension as well.
For the Premium variant, new pieces of tech and an entire new set of driving modes have been added. Vehicle stability control (which helps manage oversteer and understeer), active traction control (which distributes power to all four wheels to optimize traction), hill start assist, and a Multi-Terrain Select feature. The premium also features memory seats, push start system and moonroof, among other add-ons.
TMP president Michinobu Sugata calls the latest Land Cruiser a perfect mix of both style and technology, saying: "Our new SUV is the perfect embodiment of elegance and modernity. One cannot deny the prestige of the new Toyota Land Cruiser."
Continue reading below ↓
Recommended Videos
The refreshed Land Cruiser 200 and Land Cruiser 200 Premium can be had for P4,422,000 and P4,845,000, respectively. If you want the special white-pearl finish, you'll have to pay P4,437,000 for the Land Cruiser 200, or P4,860,000 for the Land Cruiser 200 Premium.
The launch of the new Land Cruiser comes just weeks after Nissan Philippines had reintroduced the Patrol with a significantly lower price tag. Could the refreshed LC200's list of features be more enticing than the Patrol's more affordable price?
Photos by Gelo Gonzales