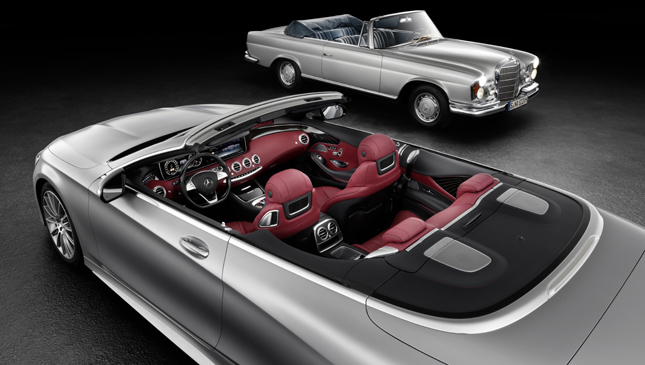 True Mercedes-Benz fans will recall that, aside from the sedan known to us today, the S-Class also had an open-top version. This was about 44 years ago, and this cabriolet was one of the most coveted variants at the time. The last example of the S-Class Cabriolet was the W111, produced from 1961 to 1971.
The Stuttgart-based automaker is set to make a return to the luxury open-top segment via the latest incarnation of this distinguished model, which is set to make a grand entrance at the upcoming Frankfurt International Motor Show this September.
For those who aren't aware, the S-Class Cabriolet has a long and colorful past. Its roots date as far back as the 1920s. Even then, the safety and security of the legendary bank-vault solidity could be felt in every model produced, roofless or otherwise. After World War II, Mercedes continued the tradition with such prized models as the 170 S (W136) of 1949, the 220 (W187) of 1951, and the 300 S (W188 in Merc-speak) of 1952.
But what most enthusiasts will recall are the models that followed--the more popular 220 S (W180) or the "Ponton" cabrios of 1956, and the latest one mentioned above, the W111 220 SE that saw daylight in 1961. This particular series had no less than five variants for owners to choose from: the 220 SE, the 250 SE, the 300 SE (W112 model series), the 280 SE, and the top-spec 280 SE 3.5 with its potent eight-cylinder motor. To increase its desirability, only 7,013 units of this series were ever produced during its 10-year run. This is why the price for a mint-condition 280 SE 3.5 can go anywhere from $115,000 from 10 years ago to a high of $290,000 today. In fact, the car went under the hammer last year at RM Auctions for a stratospheric value of $429,000!
Continue reading below ↓
Recommended Videos
Now, after 44 years, the most comfortable four-seat open-top returns in the form of the all-new S-Class Cabriolet. In true Mercedes-Benz fashion, the new model continues the tradition of being one of the smoothest cars out there. Being an S-Class, it is likewise one of the most technologically advanced, with such touches as the AirCap wind deflection system and the AirScarf neck heating system. Plus, there are the heated armrests, rear seat heaters, and the intelligent climate control system. All these ensure that every passenger remains comfy, whether the roof is up or down--the way the car should be enjoyed.
There are no other details about the all-new S-Class Cabriolet just yet. Needless to say, we'll bring you the juicy bits once the car makes its world premiere in Frankfurt. We're quite sure this is another classic in the making.