Do Germans do irony? We're asking for a friend.
Because Volkswagen, of all companies, is the one to assault the 2019 Geneva Motor Show with a new diesel-powered super-SUV. This is the Touareg V8 TDI. Yep, the clue is in the name.
Somehow now visible through that monumental grille is a 4.0-liter twin-turbo V8 diesel motor. It's not the Audi SQ7 engine—this one does without electric turbo compressors to reduce lag—and it's down a whole pair of turbos on the new BMW X5 M50d. But the stats, predictably, are still crazy.
Power: 419hp. Torque: 900Nm. Holy cow. You'll go from 0-100kph in 4.9sec, and the top speed's pegged at 250kph. Sound familiar? It's exactly as quick as VW's other quick SUV debutant, the T-Roc R.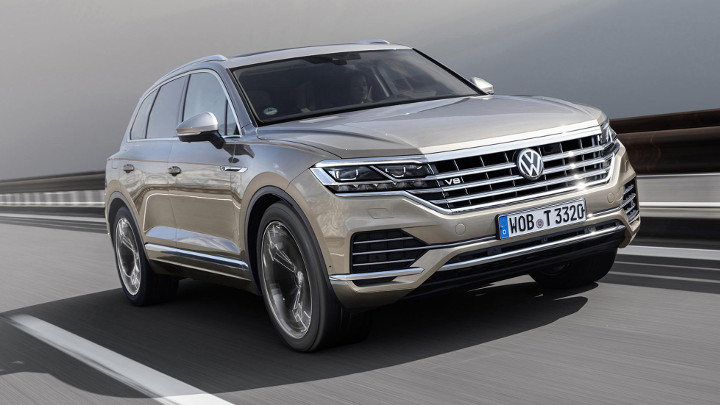 With great power comes great...subtlety, in this case. No aero kit, no extra scoops or vents, just a little V8 badge. And beige paint. Air suspension and 19-inch wheels come as standard. There's wood on the dashboard. It's all very sedate in demeanor, which is exactly what a diesel SUV should be, really.
ADVERTISEMENT - CONTINUE READING BELOW ↓
VW says the car is a "near-production model" that'll go on sale in May 2019. No word yet on which markets will get it, but it's a tricky sell when certain markets are turning so hard against the black pump, and VW's got its own clean-EV 'ID' brand to concentrate on launching.
Still, if you've been hanging onto a leggy Touareg V10 TDI for the last decade, your new car has arrived. Can't imagine why it's taken so long.
NOTE: This article first appeared on TopGear.com. Minor edits have been made.
ADVERTISEMENT - CONTINUE READING BELOW ↓
Recommended Videos