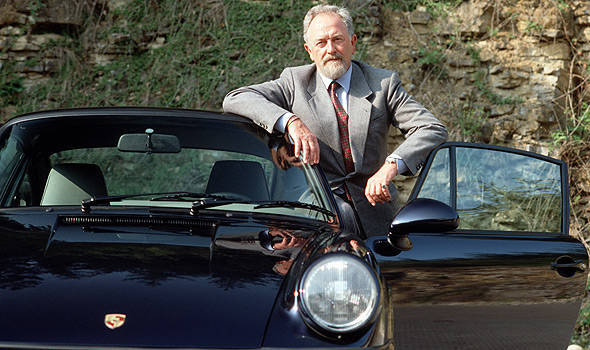 Ferdinand Alexander Porsche, grandson of Porsche founder Ferdinand Porsche, and the designer behind the first generation of the iconic Porsche 911, passed away on Thursday at the age of 76.
At an early age, Porsche showed an aptitude toward car design, having spent much of his time in the engineering offices and development workshops of his grandfather. After enrolling and then subsequently dropping out of the Ulm School of Design, Porsche joined the engineering department of the family-run business.
He soon proved his talent for design by sculpting the first model of a successor to the 356 model line out of plasticine. In 1962, he took over as head of the Porsche design studio where he then created the first generation of the 911. With it, Porsche created a sports car icon whose classic form survives to this day in what is now the seventh 911 generation.
In addition to passenger cars, Porsche also designed some of the most significant race cars of the 1960s, like the Porsche 804, which gave the carmaker its only victory in Formula 1 at the 1962 French Grand Prix, and the Porsche 904 which was homologated to compete in the FIA-GT class at various international racing events.
Continue reading below ↓
Recommended Videos
In 1972, Porsche founded the Porsche Design Studio where he designed numerous classic gentlemen's accessories such as watches, spectacles and writing implements that achieved global recognition under the 'Porsche Design' brand. With his team, he also designed a number of industrial products, household appliances and consumer durables for internationally renowned clients under the brand 'Design by F.A. Porsche'.
As a testament to his keen eye for aesthetics, Porsche received numerous honors and awards for his work. In 1968, for example, the 'Comité Internationale de Promotion et de Prestige' honored him for the outstanding design of the Porsche 911, while the Industrial Forum Design Hannover (iF) voted him 'Prizewinner of the Year' in 1992.
Porsche retained a close lifelong association with Porsche AG as a partner and member of the supervisory board. From 1990 to 1993, Porsche served as president of the company's supervisory board, where he played a major role in Porsche AG's economic turnaround. In 2005, he stood down from the board in favor of his son Oliver and assumed the mantle of honorary president of the supervisory board.
"We mourn the death of our partner, Ferdinand Alexander Porsche," said Matthias Müller, president and chief executive of Porsche AG. "As the creator of the Porsche 911, he established a design culture in our company that has shaped our sports cars to this very day. His philosophy of good design is a legacy to us that we will honor for all time."