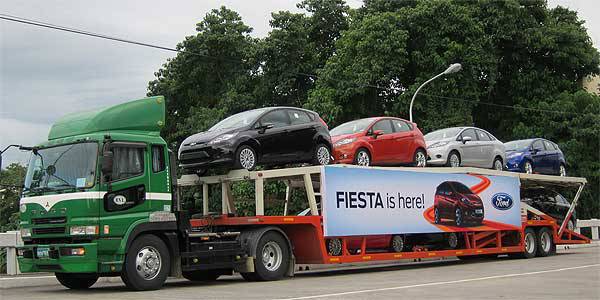 The festival of Ford's B-segment cars will kick off this weekend with the official arrival of the Fiesta in Philippine showrooms.
"Customers have been asking us about vehicle availability timing from the time we pre-launched the Fiesta last June through connectwithfiesta.com and the Fiesta Philippines Facebook portals," Ford Group Philippines vice president Steven Tan said in a statement. "We are happy to invite everyone to visit their nearest Ford showroom to test drive and we are confident that customers will feel the Ford difference."
The entire range of the new Fiesta will be on display starting October 1 and delivery of the units will begin on October 15.
Pricing for the multi-awarded Ford Fiesta starts at P670,000 with the Style 1.4-liter four-door sedan with manual transmission. The top-of-the-line variant is the Ford Fiesta Sport with a 1.6-liter engine, a six-speed PowerShift automatic transmission, airbags, in-car entertainment with voice control and Bluetooth connectivity is at P816,000. View the entire lineup of the Ford Fiesta when you click here.
ADVERTISEMENT - CONTINUE READING BELOW ↓
Ford said units of the hatchback and sedan variants will be available for test drive in its 21 dealerships nationwide but a couple TopGear.com.ph readers have apparently beaten other potential customers in taking the Fiesta for a spin. Here are some of the comments shared via our Feedbox:
"Yesterday I was abe to test drive the new Ford Fiesta. It was good. Smooth ride, quiet engine, not that powerful but for a car like that, it's good. I'd give it a 7/10. And if I have the money, I'd buy the car." - maklo02
"Also test drove the Fiesta Sport. It is not perfect but I'll give it a 9/10. It is not a pocket rocket so it's not blistering fast but it is more than fast and dynamic enough (compared to the boring alternatives which shall remain nameless). It is a fun and easy to drive, agile and tossable little car with a big dollop of refinement. Want space? Get a Van." - HD
Got something to say about the Fiesta? Type away!
Photo from Ford Group Philippines