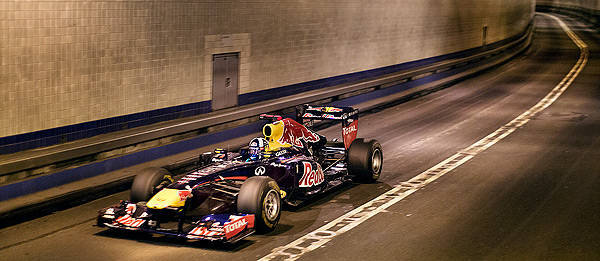 Exactly a month ago, we featured David Coulthard driving Red Bull's 2011 RB7 Formula 1 show car around New York and New Jersey and going through the 2.4km Lincoln Tunnel.
While the video featured a nearly 40-second footage of the RB7 and its exhaust wail echoing through the tunnel, that quasi-orgasmic mechanical sound was mixed with some background music, robbing viewers of the aural assault only a Formula 1 car engine can achieve inside a tunnel.
Fortunately, Red Bull has now released a two-minute video of the RB7 going through the tunnel minus the background music. Shot apparently at 1:40am local time, Coulthard and the RB7 had the Lincoln Tunnel all to themselves. As if one pass through the tunnel wasn't enough, Coulthard immediately turned the RB7 around after exiting the New York side of the tunnel and made another pass.
Watch the video all the way to the end to check out what Coulthard does while driving the RB7 at high speed through the tunnel with just one hand.
ADVERTISEMENT - CONTINUE READING BELOW ↓
If you're viewing this on a mobile device and can't see the video, please click here.