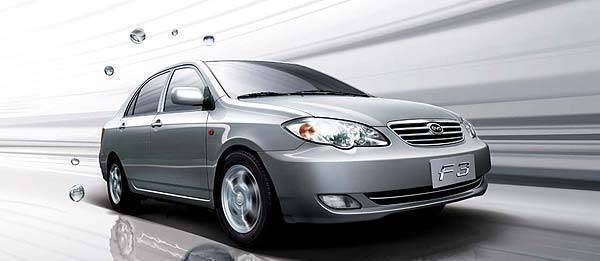 In an interesting development, the Yuchengco Group of Companies--whose Rizal Commercial Banking Corporation owns a 12.9-percent stake in Honda Cars Philippines--has partnered with the LKG Group to form Sino Motors Corporation, which is now preparing to officially bring in the BYD automotive brand from China within the first quarter of next year. BYD, which is based in Shenzhen in the Guangdong Province, specializes in small passenger cars. Story has it that BYD stands for "Build Your Dreams."
Acting as Sino Motors' general manager is former Honda Cars Philippines executive Gabby Peren, whose long tenure at Honda saw him overseeing various departments, including sales operation, marketing and even manufacturing.
"When the Yuchengco Group first approached me to handle this undertaking," Peren told TopGear.com.ph, "I was skeptical, especially as I had been a longtime Honda man. Like everyone else, I immediately dismissed all Chinese-made vehicles as inferior products, especially when compared with Japanese cars. But I agreed to visit BYD's facilities and inspect the cars, just so I could give my recommendation as to whether distributing them in the Philippines makes any sense. So I went to China and saw that BYD's cars--while still truly not on a par with Japanese vehicles--do have potential. I told the Yuchengco Group that if they didn't bring BYD to Manila, somebody else would."
Continue reading below ↓
Recommended Videos
A distributorship contract was thus inked. If plans don't go awry, Sino Motors will inaugurate its first dealership in March. The inaugural showroom will most likely be located on Roxas Boulevard. After that, the plan is to open two more showrooms--in Balintawak and in Sucat--within 2011. Three showrooms should suffice for the foreseeable future, according to Peren.
"We don't want to do things like Iseway Motors did with Chery," explained Peren. "They rushed to open so many dealerships during their first year of operation. We want to concentrate first on making sure we will be able to service the customers properly, and then we can think about expanding in the future."
But wait. Doesn't Honda Cars Philippines have a strict policy that prohibits existing dealers from doing business with other brands? The Yuchengco Group, by the way, also owns four Honda dealerships: Honda Cars Kalookan, Honda Cars Quezon City, Honda Cars Manila and Honda Cars Marikina.
"It was triggered by Honda Cars Philippines' decision to grant a franchise to the Limcaocos, who recently opened Honda Cars Rizal," revealed Peren. "The Limcaoco family likewise has dealerships for other brands, specifically Hyundai. So the Yuchengco Group asked Honda to revise the carmaker's dealership agreement with its other dealers--one that would also allow them, the Honda dealers, to conduct business with other brands."
It looks like unrest is indeed brewing within the dealership network of Honda. But that's another story.
At present, Sino Motors is bent on bringing in three BYD models: the F0, a mini hatchback with a 1.0-liter gasoline engine and a manual transmission; the F3, a compact sedan with either a 1.5-liter gasoline engine mated to a manual transmission or a 1.6-liter gasoline engine mated to an automatic gearbox; and the F3R, a hatchback version of the F3 with the same 1.5-liter gasoline engine and manual transmission.
Sino Motors plans to assemble the cars here as CKD (completely knocked-down) units to keep their pricing competitive. CBU (completely built-up) units from China are still taxed 30 percent, whereas CKD units assembled here enjoy zero tariff (or one percent at most). "I don't know how the other importers of Chinese-made cars are able to price their vehicles so low in spite of the 30-percent tax levied upon CBU units from China," wondered Peren.
Does this mean Sino Motors is investing in a manufacturing facility? "Not necessarily," Peren clarified. "What we'll do is utilize existing car-assembly plants here that have been sitting idly because their owners are not able to operate them at their full production capacity. We've found one in Santa Rosa, Laguna."
Aside from the tax exemption, the good thing about assembling the units here, Peren pointed out, is that he'd be able to personally implement high quality standards, a task he was quite familiar with when he was still with Honda.
And how does he suppose Sino Motors can erase the stigma that's bearing down on Chinese car brands today? "We will focus on after-sales service. We will even put up a technical training center. Alam mo, kaya lang naman nadala at nagalit ang mga tao sa Chinese brands, kasi nung nagkaproblema yung mga auto nila, hindi na inayos nung pinagbilhan nila."
Peren is aware that he and the Yuchengco Group--they with a rich Honda history--have their work cut out for them. He estimates that Chinese cars account for less than one percent of the total Philippine car sales at present, and that it might take another five years before Chinese brands start making a significant impact on the Filipino car-buying public.
For now, Peren wants to offer Filipinos what he believes is good value for money. The F0, which will be positioned against the Hyundai i10, will sell for P450,000 to P480,000 (prices have not been finalized as of this writing). The F3, immediately handicapped just having to face the likes of the Toyota Corolla Altis and the Honda Civic, will cost around P570,000 to P590,000 for the 1.5-liter manual version and P760,000 to P780,000 for the 1.6-liter automatic. The F3R--in hatchback form and boasting sportier features than the F3--will most likely be priced as much as the 1.6-liter F3.
Do you think our local market is ready for competitively priced small Chinese cars? Do you think BYD is a brand that can be trusted? Are BYD cars stylish enough to drive traffic into the showroom? Have your say in the comment box below.
[gallery]628[gallery]