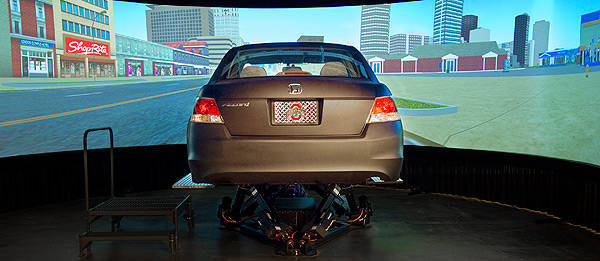 Honda R&D Americas, together with the Ohio State University, has collaborated to create a new driving simulator laboratory in the institution that has been designed to "support advanced research into issues of driver distraction and other factors impacting driver behavior and road safety."
"This new simulator will help us further strengthen our local research capabilities to gain an even deeper understanding of our customers and to advance our ability to create even more safe, smart and intuitive Honda and Acura products," said Honda R&D Americas senior vice president Frank Paluch. "It presents both the university and Honda with the chance to conduct leading-edge research into the psychological components of the driving experience and its impact on issues such as driver distraction and overall vehicle safety."
The facility's main simulator features a full cab mounted on a six-degrees-of-freedom motion platform and a 240-degree wraparound projection screen with high-resolution, edge-blended visuals designed to simulate a wide variety of driving situations with a high degree of realism. A second simulator is optimized for the testing of production vehicles.
The new laboratory is designed to enable next-generation research into driver behavior. Biometric sensors measure factors such as blood pressure, heart rate, eye movement and galvanic skin response, along with respiration, heart and blink rates, allowing Honda researchers to gauge the psychological and physiological state of the driver in varying conditions.
Continue reading below ↓
Recommended Videos
"This is something of a different approach to understanding, at a deeper level, the driver's state and how people interact with the vehicle," said Honda R&D Americas chief engineer Steven Feit. "We are looking at factors beyond the conventional aspects of the driver-vehicle interface to truly understand the psychological and cognitive aspects of driver behavior."