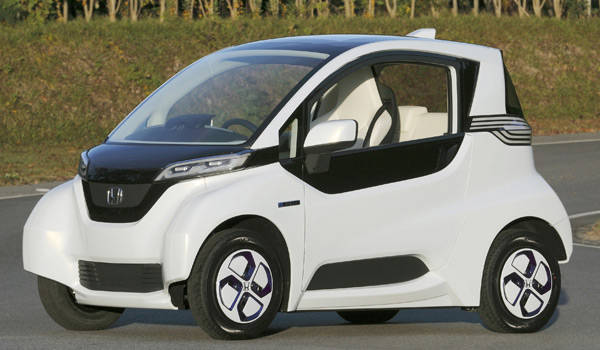 Honda seems to be on a roll. On the same day that the Japanese carmaker revealed its face-lifted Civic, the company also announced a concept for a small electric vehicle called the Micro Commuter Prototype, which is described as a "micro-size short-distance EV commuter." Measuring just 2,500mm long, 1,250mm wide and 1,445mm tall, this vehicle was developed "in consideration of the vehicle categories for micro-size mobility products that are currently being discussed under the initiative of the Ministry of Land, Infrastructure, Transport and Tourism in Japan."
Honda will begin demonstration testing in Japan in 2013. The demonstration testing will verify the potential of the vehicle in various uses, including supporting everyday short-distance transportation for families with small children and for senior citizens, home delivery services, commuting and car-sharing.
The adoption of the Variable Design Platform positions components such as the battery, the motor and the control unit under the floor and in the rear space to concentrate the vehicle-driving functions into a compact space. Honda says this made it "comparatively easier to develop and produce a body and interior that accommodates various uses and customer needs than existing vehicles."
Other features of this prototype include the use of a user-owned tablet device for the application of functions such as meter display, navigation, audio and backing-up camera display, and the ability to charge the battery of the tablet using solar cells mounted on the vehicle roof. Honda is currently continuing the research of onboard solar cells to provide solar energy to assist the driving.
Continue reading below ↓
Recommended Videos
Honda says it is striving to continue proposing next-generation mobility products that expand the "joy and fun of mobility while minimizing the environmental footprint," and that the company remains committed to the "proactive research and development of such technologies and products."
The Micro Commuter Prototype, according to Honda, has a maximum speed of 80kph and a maximum range of approximately 60km. Charging the lithium-ion battery takes less than three hours.