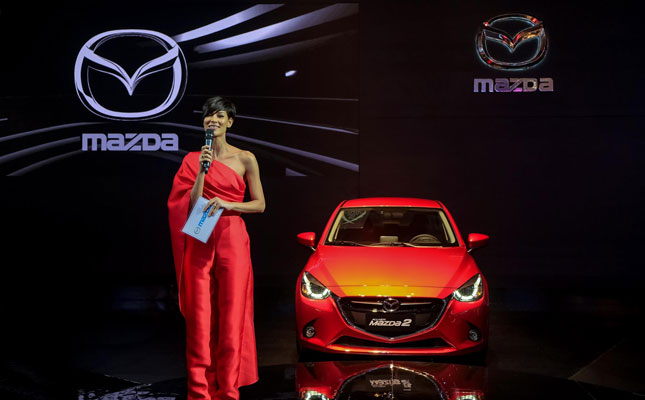 You don't need a floor plan to be able to tell that Mazda Philippines has the largest display in the ongoing 2015 Manila International Auto Show. Upon entering the World Trade Center's main hall, you will see that the entire right side, from wall to wall, has been taken up by the Japanese carmaker.
It's a big year for Mazda, and the MIAS is where it has launched its opening salvo for 2015. It waited until all the other brands' presentations had taken place, choosing the last scheduled time slot for the day at 6pm on Thursday, April 9. The centerpiece was the highly anticipated Mazda 2 subcompact car, which will be available in both sedan and hatchback body types.
Right after the stylish Mazda 2 had been revealed, an even more design-oriented event took place. As a tribute to what is arguably the best-looking lineup of passenger vehicles in the country today, Mazda commissioned fashion designer Mark Bumgarner to create a 20-piece clothing collection for the evening. A fashion show was held, complete with a runway for professional models to saunter on. The show was hosted by Joey Mead-King, the wife of Car Porn Racing's Ian King.
If the designer's last name sounds familiar, that's because he is the brother of Mazda race driver and Traffic Stopper Michele Bumgarner. He is also a big name in the fashion industry, who counts Liz Uy, Heart Evangelista and Maggie Wilson-Consunji among his clients. (Having no idea what goes on in the fashion world, we had to research that.)
Continue reading below ↓
Recommended Videos
Among the girls chosen to show off the 2015 Mazda Collection were members of Cosmopolitan Philippines' 8 Sexiest Models--a selection of the hottest living mannequins handpicked by our sister publication.
Now, we're no stranger to beautiful girls in our own industry, but we have to say it was different seeing these statuesque women walking confidently on Mazda's runway. Watching the models move elegantly in the soul red, black and gray creations of Bumgarner, was like admiring how a beautiful car moves on the road.
We have to admit there are days when we think we've seen it all when it comes to motoring launch events. But Mazda wowed us with a solid concept that was executed flawlessly. Check out the carmaker's booth at the motor show until tomorrow, April 12.
Photos by Mikko David