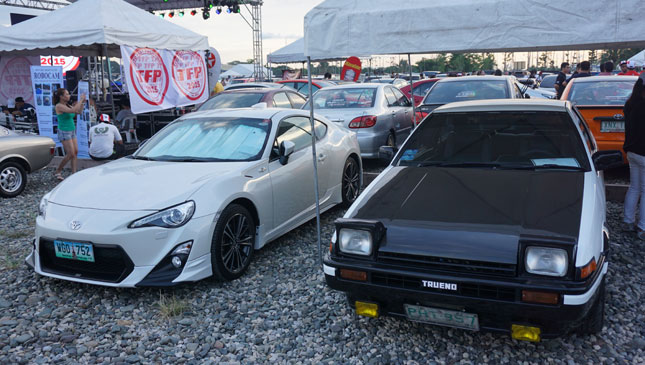 Thankfully for car enthusiasts, there's another event happening in May that will restore our sanity from all the mudslinging that comes with the upcoming national elections, and that event is Toyo Fest 2016.
So if you're a fan of Toyota vehicles, or if you're a Toyota owner and you want to show off how much you love your car, this is something you have to mark on your calendar for this coming May 14, and the venue is the Clark Parade Grounds in Pampanga.
If you've been active in the car-club scene, then you already know what Toyo Fest is. You've probably attended last year's staging in Bulacan. For the uninitiated, it is the biggest gathering of Toyota-based car clubs and enthusiasts in the Philippines. The organizer, Toyo Fest Philippines, has actually outlined three events this year. The kick-off is the one in Clark, followed by a Cebu leg on June 18, and finally concluding with a culminating activity on July 23 in McKinley West in Taguig.
For those who will brave the heat and go to Clark on May 14, they will see food trucks, Frisbee competitions, barbecues (we're sold!), and DJs spinning music. In the evening, visitors can join the Fuse Festival, where international DJs will keep the party going until you probably shouldn't drive anymore.
But it's not all partying and fun at these events. Promoting road safety is a top priority for the organizers.
"What makes Toyo Fest unique is that we don't just show off our cars and ogle at models," said Toyo Fest Philippines founder Martin Estrella. "We want to change this culture by advocating responsible driving. We want to reach out to different parts of the country to share our dream of having safer roads for everyone. At the same time, we want this to be a celebration of the unity and fellowship between different Toyota-based car clubs from all over the country."
Estrella also stressed that one doesn't have to belong to a car club to join Toyo Fest 2016. Toyota owners who just want to display their vehicle are welcome to do so as long as they pay the entry fee (which also applies to the car clubs). You may contact Toyo Fest Philippines through its Facebook page for more information. For those who just want to appreciate the automobiles, entrance is free.
After the crazy elections this month, we need something to relieve our stress. Seeing nice cars and enjoying a festive atmosphere might just do the trick.
Photo by Dinzo Tabamo