Still thinking twice about driving to the casa to have your car serviced? Don't worry, we're sure you're not alone. This COVID-19 pandemic is far from over, and it's understandable if you're still wary of heading out into public places right now.
This is also why various carmakers have rolled out new initiatives such as home services to cope with this new normal. AC Motors, for its part, has just launched its new Master Mechanics helpdesk which allows its customers to consult with after-sales managers and advisors from the company's various brands in Honda, Isuzu, Volkswagen, KTM, Kia, and Maxus.
The Master Mechanics online services cover general vehicle-related concerns such as battery maintenance and car storage. Customers can also get advice on DIY maintenance procedures, basic warranty policies, vehicle accessories, and other product- or brand-specific questions. Dealer information and services are available, and inquiries on car and motorcycle features will also be entertained.
Customers can also utilize the Master Mechanics service to schedule their visits to dealerships and make face-to-face transactions faster and more efficient. Towing services and hospital arrangements in the event of vehicle breakdowns and road accidents can also be availed through this new service.
The Master Mechanics is accessible via email, Facebook, and SMS. Lines are open from 7am to 7pm daily, and the services are free of charge.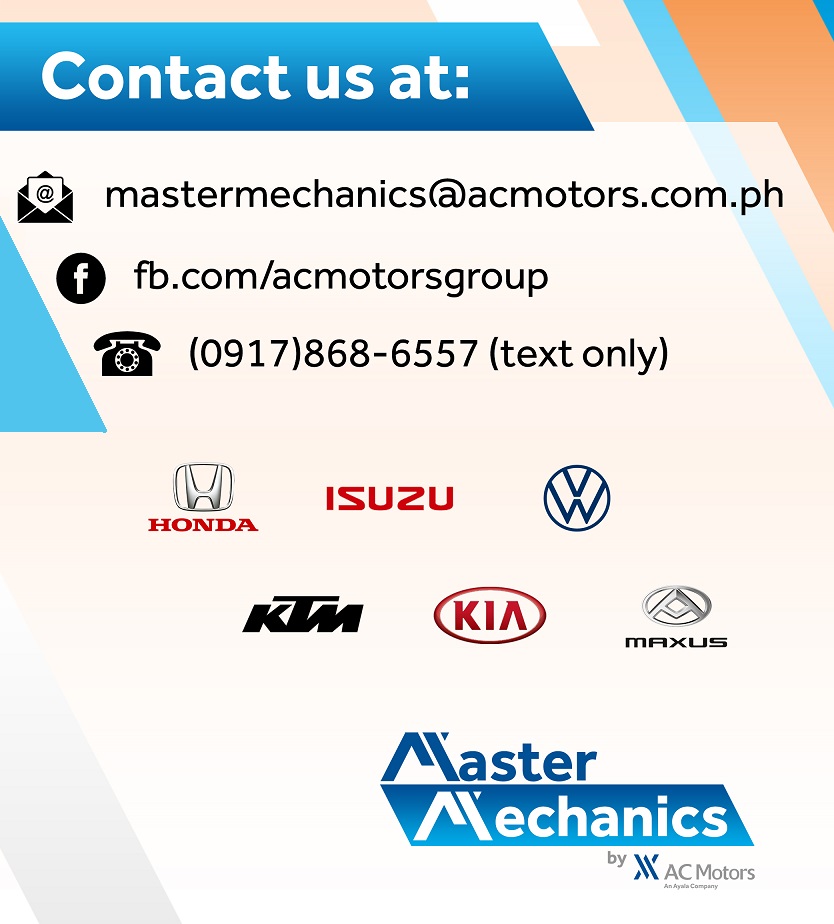 ADVERTISEMENT - CONTINUE READING BELOW ↓
The company's statement reads: "The Master Mechanics online program is AC Motors' response to keep in step with extraordinary times, and it highlights the company's priority to protect the health and safety of its valued customers while at the same time keeping true to its commitment to provide quality products and after-sales services."