The Philippine auto industry wasn't the only one to take a major hit in Southeast Asia due to COVID-19. In fact, according to data collected by the ASEAN Automotive Federation from January to October 2020, car sales in the region shrunk by a whopping 33.9% year-to-date. A total of 1,885,443 cars were sold this year compared to 2,852,518 over the same period in 2019.
Indonesian car sales took the biggest dive this year posting -50.5% growth from January to October 2020. The Philippines comes in at second with -42.7% growth, and Singapore comes in at third with -41.4% growth.
Surprisingly, one country posted actual growth despite the coronavirus going around. Brunei car sales grew 13.6% year-on-year—though this might not be much to go by considering how small the auto industry is over there. Only 11,220 units were sold in the country from January to October 2020, compared to 9,879 units over the same period last year.
ADVERTISEMENT - CONTINUE READING BELOW ↓
The worst month for ASEAN car sales by far was April 2020 after a -81.3% growth. That's 52,026 units sold compared to 277,597 units in the same month the previous year. Myanmar's sales took such a big hit that zero cars were sold in the country that month. February 2020 is the year's most successful month so far, though the region still only managed -2.1% growth.
Thankfully, April 2020 looks like rock bottom for the region. Since then, ASEAN car sales have trended upward each month, with August, September, and October posting -26.7%, -14.2%, and -18.4% growth, respectively. You can check out a quick breakdown of 2020 car sales per country in the tables below:
Car sales (January to October)

Country
2019
2020
Growth YTD
Brunei
9,879
11,220
13.60%
Indonesia
851,222
421,089
-50.50%
Malaysia
496,855
398,159
-19.90%
Myanmar
16,897
15,145
-10.40%
Philippines
301,761
173,035
-42.70%
Singapore
77,621
45,506
-41.40%
Thailand
838,968
608,880
-27.40%
Vietnam
259,315
212,409
-18.10%
Total
2,852,518
1,885,443
-33.90%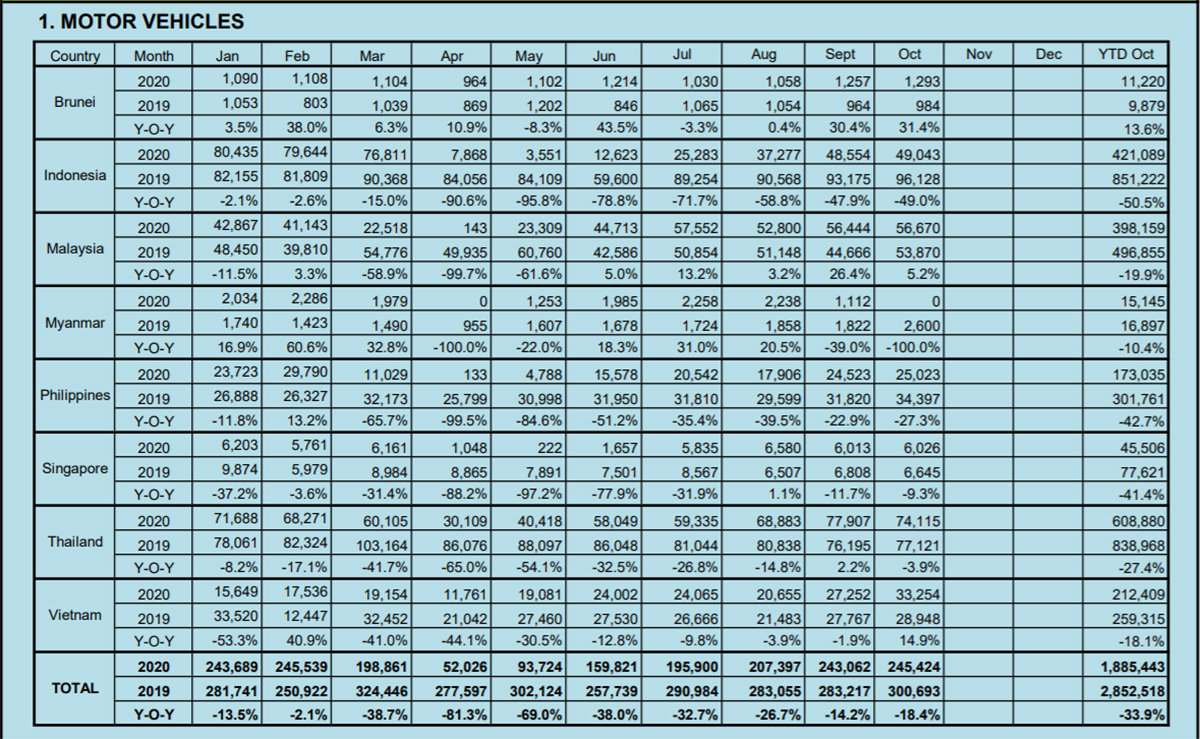 ADVERTISEMENT - CONTINUE READING BELOW ↓
Recommended Videos
As for two-wheelers, local motorcycle sales dropped by 33% from January to October of 2020 compared with the same period last year, also based on data from the ASEAN Automotive Federation. Click here to read Top Bikes PH's detailed report.
So, did you manage to buy a car despite the changes brought about by the pandemic? What was your experience like? Let us know in the comments.