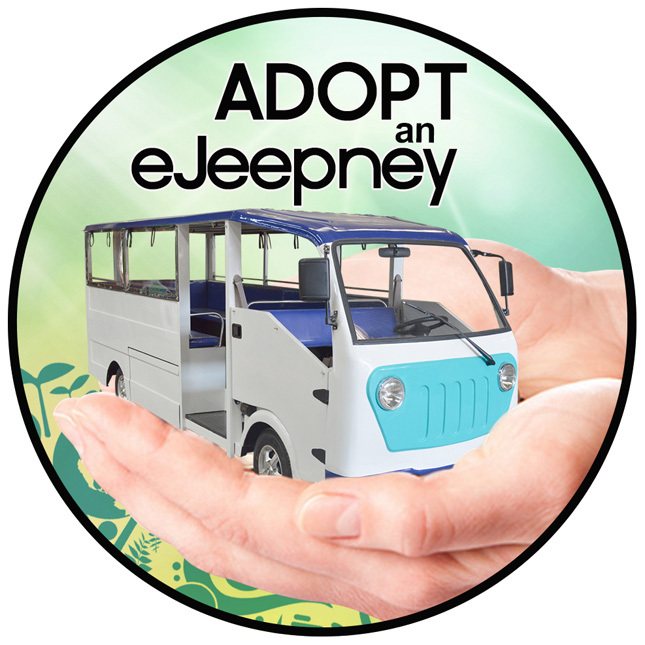 Big companies routinely do what is known as "corporate social responsibility" campaigns. Technically speaking, it's really just another form of brand marketing, but done in a way that makes it look like the sponsor is doing its part as a responsible member of the community. Tree-planting activities, school-building donations and calamity assistance are some of the popular CSR projects we read about in the news. It's a nice way of putting your brand out there without the hard-sell flavor of a typical advertising push.
Philippine Utility Vehicle, or PhUV, which claims to be "the first to locally design, fabricate, assemble and actually put on the road an electric vehicle in the Philippines," thinks it has a better idea. PhUV wants companies to "adopt" an electric jeepney (or a fleet of these vehicles) through a specified period and let these eJeepneys replace the traditional public-utility jeepneys.
PhUV has partnered with Electric Vehicle Expansion Enterprises Inc. (EVEEi) for this "Adopt an eJeepney" program.
"By adopting an eJeepney for a fixed rate for a year or more, a company can fund a new fleet of eJeepneys to replace the old, dilapidated and gas-guzzling jeepneys that are currently plying our roads," EVEEi CEO Atty. Bodie Pulido said in a statement. "In exchange, the company gets on-board advertising, both inside and out."
Brilliant idea, if you ask us. By participating in this program, a company is able to accomplish two things: (1) Sponsor a modern and earth-friendly mode of public transport; and (2) market its brand as a socially responsible firm.
ADVERTISEMENT - CONTINUE READING BELOW ↓
"We have already identified specific routes where we can deploy eJeepneys to replace the old ones," added Atty. Pulido. "These are perfect routes as the areas are densely populated, so advertising exposure is maximized."
Here's an interesting bit of trivia about the traditional Philippine jeepney, according to PhUV: "Although jeepneys comprise only 2% of vehicle population in Metro Manila, it is responsible for 70% of air pollution."
Everyone has been talking about retiring the jeepney once and for all. Maybe the eJeepney is the way to do it.
"Stopping air pollution is arguably fast becoming a necessity, not a luxury, whose cost we must all be willing to bear," declared PhUV CEO Rommel Juan. "A large part of the problem in the Philippines is the very backbone of our mass transport system--the traditional, air-polluting jeepney. We need to have a viable and sustainable replacement for it."
If you work for a company that has CSR marketing requirements, you might want to check out this program. For inquiries, you may get in touch with John Marasigan at john.phuv@gmail.com or call (02) 930-7003.