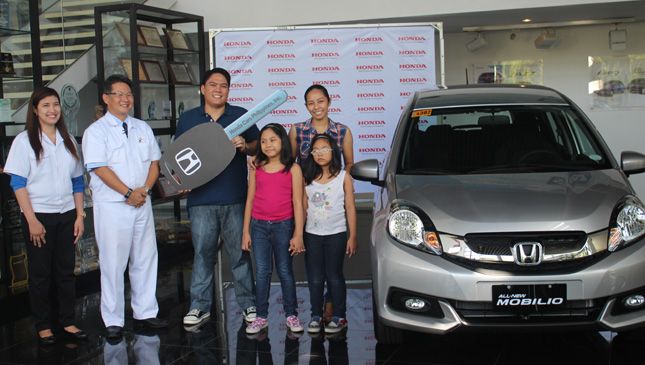 What's it like to win a brand-new car? How does it feel to receive the keys to a nice vehicle, and not worry about a down payment and monthly amortizations?
Early this year, 32-year-old Jose Antonio Goncero Jr., a husband and father of two, was just like most of us. He dreamed of someday owning a decent vehicle that would transport his family of four comfortably--six when his parents pay them a visit. He would browse the Internet and do casual research, hoping to find a suitable replacement for his 18-year-old sedan.
Then one day, he didn't need to search anymore. Last May 4, he knew the feeling of winning the perfect car for his needs. Goncero won a brand-new Honda Mobilio V, through the "Honda Mobilio 7 Smiles" raffle promo, and he did it under amazing circumstances.
"Nakikita ko na sa Facebook 'yung tungkol sa Mobilio at sa promo ng Honda sa mga posts ng friends ko, pero hindi ko pinapansin. Akala ko may catch 'yung promo, na kailangan bumili ng kotse para manalo," he shared. ("I had seen my friends' posts about the Mobilio and the Honda promo in my Facebook newsfeed, but never really paid attention to it. I thought you needed to buy a car to win the raffle.")
ADVERTISEMENT - CONTINUE READING BELOW ↓
But something in his social-media feed last May 2 changed his motoring fate forever. He saw a post from Top Gear Philippines's Facebook page, and something compelled him to click the link. "Iba e, 'yung word na 'NOW' sa post, 'yun talaga ang humuli sa akin to click on the link and read about it," he recalled. ("It felt very different, and the word 'NOW' on their post was what caught my attention and made me read about the promo.")
Following the instructions that he read on our website, Goncero watched the May 2 episode of Turbo Zone that same morning, and not only did he find out how easy it was to join the contest, he realized the Mobilio was what he was looking for all this time. Goncero immediately sent his entry via the online registration system.
Honda Cars Philippines received 30,000 entries for the duration of the contest. But clearly, fate has a divine sense of justice, because on May 4, Goncero received an unforgettable call telling him that he had won. By May 6, he was already getting his Mobilio's keys from HCPI president and general manager Toshio Kuwahara.
ADVERTISEMENT - CONTINUE READING BELOW ↓
Recommended Videos
"We are happy that we are able to fulfill Mr. Goncero's dream of owning a new family car that would take them to different places together, even with additional members of the family," Kuwahara said. "We hope that the Mobilio will not only bring smiles, but memories that will last forever."
So, how does it really feel to win something you badly want? We will all find out soon enough when we meet our lucky winner here at the Top Gear office. Stay tuned.