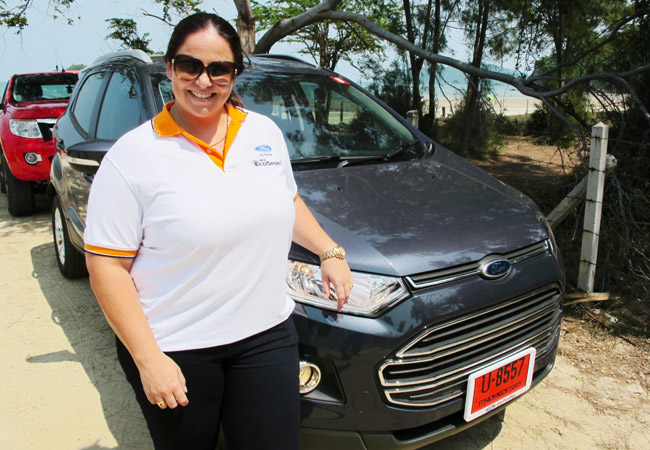 At the international media drive event for the new Ford EcoSport in Hua Hin, Thailand, Ford Philippines managing director Kay Hart told TopGear.com.ph that she expects her company's latest offering to sell anywhere from 400 to 500 units a month. This is a very impressive projection, considering that it's the same sales target that Toyota Motor Philippines currently has for the smaller and cheaper Wigo.
Deliveries of EcoSport units will start in April, but Hart said they had already received firm orders for about 250 units in just the first couple of weeks after the vehicle's launch at the end of January. When the units start hitting showroom floors, expect those numbers to go even higher. With the EcoSport's prices ranging from P775,000 to P975,000, it's easy to see why this will become a hot seller in the Philippine market. "It doesn't really have a direct rival," Hart pointed out.
Hart also admitted that the EcoSport could take away sales from the Fiesta--upon which it is based--and that is why Ford Philippines has no plans of bringing in the EcoBoost version of the small SUV.
Indeed, the EcoSport presents an irresistible proposition to buyers of subcompact hatchbacks and even sedans. For about the same price, you already have a taller, SUV type of vehicle that is more versatile than most anything in its price range.
Continue reading below ↓
Recommended Videos
Is the EcoSport on your short list? Take our poll.
Photo by Vernon B. Sarne
[poll]517[poll]