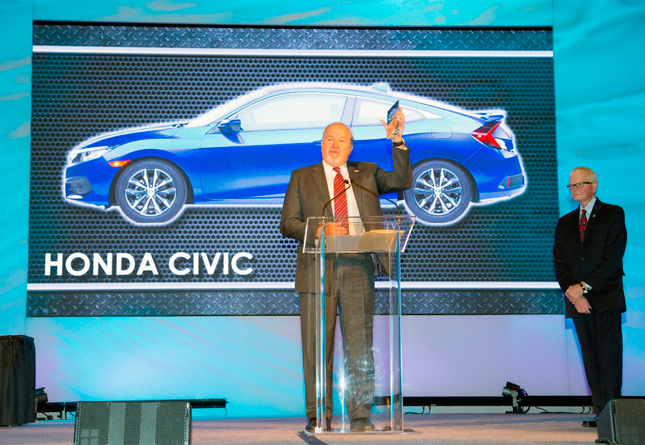 As has been the tradition every year at the North American International Auto Show, the two best vehicles in the continent right now have been duly recognized. With 53 automotive journalists from the US and Canada casting their votes, the Honda Civic has been named 2016 North American Car of the Year, while the Volvo XC90 has been picked 2016 North American Truck of the Year.
Both the Civic (2006) and the XC90 (2003) have previously won their respective awards.
Providing a brief definition of the awards, the organizers wrote: "The awards are designed to recognize the most outstanding new vehicles of the year. These vehicles are benchmarks in their segments based on factors including innovation, comfort, design, safety, handling, driver satisfaction and value for the dollar."
In winning the North American Car of the Year trophy, the Civic had to beat two formidable challengers:
* Honda Civic - 203 points
* Chevrolet Malibu - 181 points
* Mazda MX-5 - 146 points
Meanwhile, in securing North American Truck of the Year honors, the XC90 managed to vanquish the following opponents:
* Volvo XC90 - 310 points
* Honda Pilot - 111 points
* Nissan Titan - 109 points
For the second straight year, the North American COTY is from a foreign manufacturer. The Volkswagen Golf got the award last year (the domestic Ford F-150 did win in the truck category). All in all, in the awards' 23-year history, foreign carmakers have collected the COTY prize 11 times.
Continue reading below ↓
Recommended Videos
While the new-generation XC90 has already been previewed in our market, Honda has yet to announce when the all-new Civic might first make an appearance on our shores.