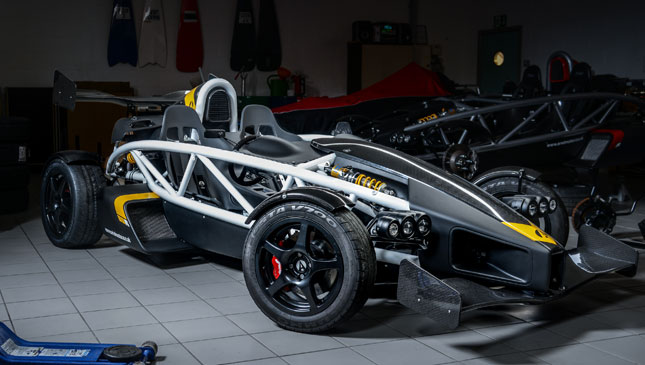 The Ariel Atom is the bare-bones sports car that became famous for distorting former Top Gear host Jeremy Clarkson's face during one episode. Because the Atom is so fast, the wind blasted into the open cockpit and reshaped Clarkson's face into a rictus of speed.
The powerplant responsible for this is the engine that JDM fanboys dream about: the Honda Civic Type R mill. Weighing a lightweight 520kg (about half a Mazda MX-5), the Type R's 245hp output can propel the Atom from zero to 100kph in a supercar-like 3.12 seconds. With the optional supercharger, power climbs to either 310hp or 350hp, and acceleration to the century mark drops to less than 2.7 seconds. That's already Ferrari and Lamborghini territory.
And now Honda UK and the Ariel Motor Company have announced that they're renewing their 16-year-old partnership. The Japanese carmaker will continue supplying the small British firm with Type R engines for the Atom, as well as 2.4-liter powerplants for the off-road Nomad.
In the small factory in Somerset in the UK, just 1,500 Atoms have rolled off the shop since it opened, a number that is just a few days' work for the Honda plant in nearby Swindon. Every Ariel vehicle takes 100-200 hours to make by hand, with the work spread out among just eight technicians.
Continue reading below ↓
Recommended Videos
Because it's such a small operation, manufacturing is very flexible. No two Ariels are the same, and each is made to order from thousands of possible configurations.
Ariel founder Simon Saunders comments on the renewal of the partnership: "Our customers are hugely passionate about driving, so the engine is everything. When we tell new customers that it's a Honda, they simply nod and move on to the next question. They just know that it works. Switching to Honda engines is one of the best decisions that we've ever made. It's a brand that can't be matched for performance and bulletproof reliability, and we're delighted that this success is set to continue well into the future."
We couldn't agree more. We'd love to have a Type R-powered sports car, although the open cabin would be the height of impracticality in our smog-filled streets, and let's not get started on the security risks.
Of course, there are always provincial roads, but that's another story.