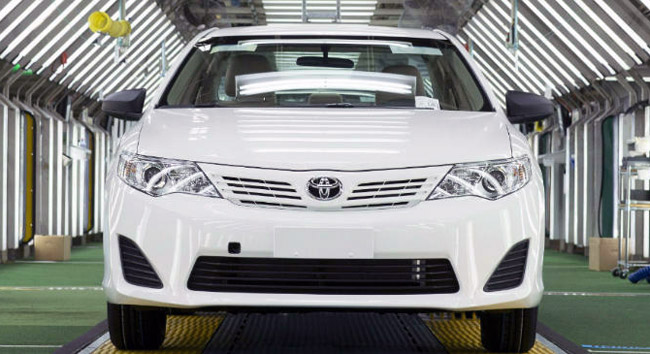 Yesterday, it was announced that Toyota Australia would "consolidate its corporate operations to Melbourne," following a prior statement in February this year that the Japanese carmaker would end its manufacturing operations in the country in 2017. That announcement meant cutting some 2,500 jobs at the company's production facility in the suburb of Altona in the next three years.
Said pronouncement, incidentally, came after Ford's and General Motors' decision last year to cease manufacturing in Australia--Ford in late 2016 and GM (Holden) also in 2017.
Lest anyone speculate incorrectly on the reasons Toyota is ending its 51-year manufacturing Down Under, a company insider (read: a Toyota Motor Corporation officer) e-mailed TopGear.com.ph his take on the matter, only requesting that he remain anonymous as he is not a spokesperson for Toyota Australia. Below is his letter, in italics:
As I was walking out of the Lexus assembly plant at Toyota Motor Kyushu with 150 colleagues from around the world, we all stopped to retrieve our mobile phones from the minder at the gate before boarding the buses back to Fukuoka.
You know that mild sense of dread when you've been forced away from your mobile devices for a full business day, anticipating the dozens of important notes waiting for you, including the two or three why-haven't-you-responded-yet follow-up messages in your inbox? On this day, my friends from Toyota Motor Corporation Australia (TMCA) felt something else as they powered up their iPhones and Blackberries: wistfulness, sorrow, dread perhaps. They already knew what would be waiting for them when we came out of the factory: the announcement of the death of auto manufacturing in Australia.
Continue reading below ↓
Recommended Videos
This day had been coming for a year, ever since we heard the two announcements in 2013 that GM and Ford would each be closing their Australian assembly plants. The final nail in the coffin of auto manufacturing in Australia was yesterday's announcement by TMCA that it would close its plant in Altona near Melbourne in the southern state of Victoria.
Forces at work within Australia, in the broader Oceania region and--in GM's case--far outside of it, compelled the two American automakers to close their Australian manufacturing operations last year, and we all knew it was only a matter of time before Toyota would have to do the same, although for entirely different reasons. TMCA will change from being a leading manufacturer, importer, exporter and distributor of cars and light trucks, to a much smaller importer and distributor.
Regardless of how effective manufacturing had been for TMCA, without thriving competitors in Australia, it was clear it would have to quit the sector, too. How exactly was TMCA's hand forced on this decision? Because automotive manufacturing is not as vertically integrated as you might think. Sure, most automakers build most of their own engines, and stamp and weld most of their car bodies, but you'd be surprised how few also make their own axles, gas tanks or even transmissions--suppliers often fill those needs.
Toyota is often seen as the most vertically integrated of the major automakers, controlling our own foundries, powertrain manufacturing, even toolmakers. But even mighty Toyota depends on local suppliers near each plant to supply commodities like wheel bearings, wiring looms, window glass and more. Just in time, and just in the sequence needed for today's production plan.
And the supplier network is intertwined, not by regulation or even by design, but due to organic growth over the decades. This is why when we heard a year ago that GM and Ford would end manufacturing of automobiles in Australia, we all knew that TMCA would have to fold, too.
If that little plastic molding shop near Melbourne making turn signal lenses, that stamping shop punching out seatbelt buckles, the railroad that moves finished cars around the country, the service that installs and programs the robot welders, the firm that supplies and staffs the canteen at the plant, didn't have the scale of also supplying GM and Ford, they wouldn't be able to support TMCA's factory cost effectively. So TMCA announced yesterday plans for the future--a smaller Toyota footprint in Australia, preparing to close the manufacturing plant at Altona and move the sales, marketing and parts operations team from the offices near Sydney 1,000km southwest to Melbourne. A sad and significant day for automaking in the hemisphere.
So there. Without a healthy manufacturing ecosystem that also supports a regular group of suppliers, no car manufacturer can hope to sustain a profitable manufacturing operation in any market. Which, if you think about it, is exactly the same problem we have in the Philippines.