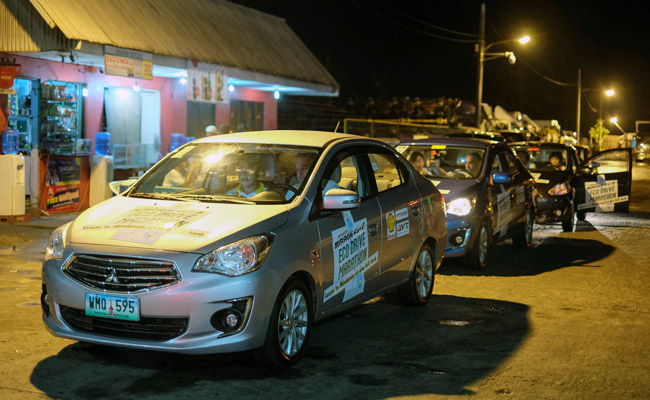 On December 2, Mitsubishi Motors Philippines began driving two units of the Mirage G4 sedan and one unit of the Mirage hatchback from Luzon to Mindanao with the aim of breaking the previous unofficial Philippine record for the longest distance traveled by a stock passenger car on a single tank of fuel. That record stood at 1,402km, set by a Honda Jazz in 2008.
Before the Mitsubishi caravan took off, company officials had announced that they were aiming to go 1,450km. Well, guess what, the Mirage G4 units did much more than the stated target.
According to MMPC ad and promo manager Arlan Reyes, the Mirage G4 with manual transmission went 1,647km on one full tank of fuel, while the Mirage G4 with CVT did 1,518km.
"The Mirage G4 CVT ran out of gas along Maharlika Highway in General Santos, while the Mirage G4 MT ran out of fuel on MacArthur Street in Davao City," Reyes told TopGear.com.ph. "These two units reached General Santos, and we doubled back to Davao to run out the fuel."
ADVERTISEMENT - CONTINUE READING BELOW ↓
The fuel eco run--dubbed "Mitsubishi Mirage G4 Eco Drive Marathon: Luzon To Mindanao On One Full Tank"--was interrupted by typhoon Hagupit and resumed the drive on December 11.
Now, understand that this fuel eco run employed hypermiling techniques--like drafting, or driving behind a large vehicle to minimize wind drag--so don't expect these mileage figures in real-world driving conditions. Still, the figures are nothing short of incredible. Since the Mirage G4 has a 42L fuel tank, that means the MT unit did 39.21km/L and the CVT unit managed 36.14km/L.
The Mirage G4 units used Shell fuel and Bridgestone tires.
Now that the run is complete, we will soon publish a series of photo-heavy articles detailing how the Mitsubishi Mirage G4 sedans achieved the feat on a day-to-day basis.
Photo by Mikko David
ADVERTISEMENT - CONTINUE READING BELOW ↓
Recommended Videos