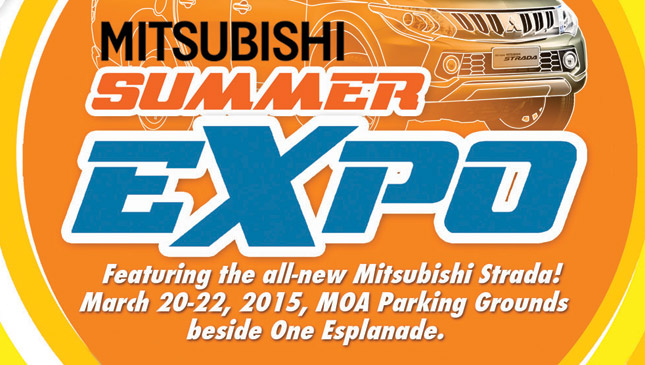 You already know that this weekend is going to be very busy for car fans in Metro Manila as well as for those in areas north of the NCR. There's the first round of the 2015 Vios Cup at Clark International Speedway. There's also the season-opener for the 2015 Hyundai Lateral Drift Pro-Am Championship Series at the Cultural Center of the Philippines. And then there's the "Automized: 5th Gear" car show by the Mechanical Engineering Society of De La Salle University at Harbour Square in CCP Complex.
All three events mentioned above are happening tomorrow, March 21.
Mitsubishi Motors Philippines has something earlier and longer. Starting today (March 20) until Sunday (March 22), the Japanese carmaker is holding the "Mitsubishi Summer Expo" at the Mall of Asia parking grounds beside One Esplanade (see map at the bottom). In a nutshell, this three-day event is a Mitsubishi festival, celebrating everything with the three-diamond logo on it. That includes, of course, the all-new Strada, which the company officially launched in our market last night.
"The Mitsubishi Summer Expo is not only for car enthusiasts, but also for the whole family as they will surely enjoy interesting vehicle displays, special offers, and fun and exciting activities," said MMPC in a statement sent to TopGear.com.ph. "This expo event will also feature the all-new Strada and an array of Mitsubishi's best-selling vehicles. This is also the perfect venue for those who are planning to purchase a brand-new Mitsubishi vehicle because aside from the vehicle displays, MMPC and its dealers will be offering exclusive discounts and freebies on top of the existing March promo. Huge savings await those who will avail a brand-new Mitsubishi vehicle during the expo period. Customers who also wish to replace their old vehicles may take advantage of the trade-in bonus, which is exclusively offered at the expo site."
Continue reading below ↓
Recommended Videos
Needless to say, test drives of Mitsubishi models will be available at the event from 11am to 6pm. (Check out detailed schedule of activities below.)
Now, if the other events this weekend promise to offer racing action, the Mitsubishi Summer Expo also has that. Two-time Dakar Rally champion Hiroshi Masuoka will "demonstrate the power and agile handling of the all-new Strada through a high-speed driving exhibition. Rally fanatics and car enthusiasts will also have a chance to meet and greet Masuoka and even take selfies with him or get his autograph."
There's also a car-club meet so Mitsubishi owners can hang out with fellow fans of the brand. MMPC is inviting you to bring your Mitsubishi vehicle and show it off to others.
Finally, on the last day of the three-day expo, March 22, MMPC will hold the finals of the Mirage Eco Dash game, in which "one lucky gamer will drive home a brand-new Mirage GLS." (Read separate story on this.)
Good luck arranging your schedule this weekend!