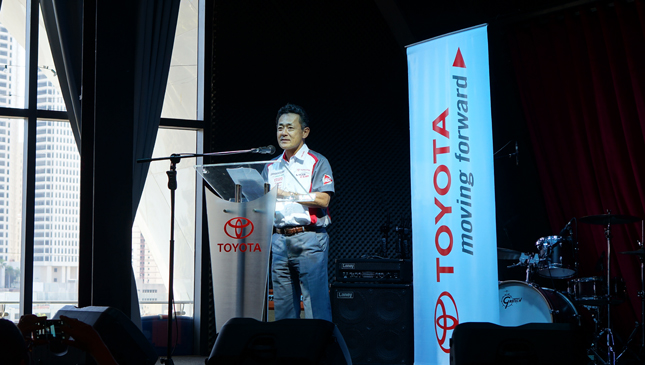 After an exciting season of wheel-to-wheel racing, the Toyota Vios Cup is back for another year. Toyota Motor Philippines held a formal press conference today announcing the second season of the one-make race series, along with the drivers who will participate.
A total of 31 cars will be fielded by dealers and individual teams, to be piloted by 33 drivers. The disparity between the number of cars and drivers is due to two teams, Flashbacks Racing and Toyota Makati, fielding two drivers per car. A lot of names are returning in 2015 to take a shot at being champion. Top 2014 contenders like Pauland Dumlao, Basti Escalante, Dominic Ochoa and Allan Uy will suit up again and put the pressure on the teenage reigning champion: Luis Gono of the Toyota North Edsa team.
Like last year, there will also be a celebrity division. Returning racers are Phoemela Baranda, Jinno Rufino and defending champ Sam YG. New celebs joining the fray are actress Kylie Padilla (daughter of Robin Padilla), radio DJ Joyce Pring, actress Jasmine Curtis-Smith and actor Derek Ramsay. We expect a sharp increase in the attendance of female spectators.
A total of four legs are scheduled for this year, with the first one happening on March 21 at Clark International Speedway. Similar to the 2014 season, there will be side activities like car-club events and drifting battles. The Drift King himself, Keiichi Tsuchiya, will once again show us how it's done. There will also be an appearance from a star of the Fast & Furious franchise, but TMP is mum on the identity of this celeb for now.
Continue reading below ↓
Recommended Videos
All Vios Cup legs will again be open to the public.
TMP president Michinobu Sugata excitedly shared his thoughts on the 2015 Vios Cup: "The Vios has proven that aside from its inherent features of quality, durability and reliability, it is also a car designed for fun. Some of our season one racers should know--the special connection between the car and the driver is oftentimes a bond that words alone cannot completely explain. Perhaps the sound of engines roaring and the smell of rubber burning are still fresh in your heads. Well, sit back and hold on tight: A much-grander race awaits to be witnessed."
As we always say here, see you at the races!
Photos by Dinzo Tabamo