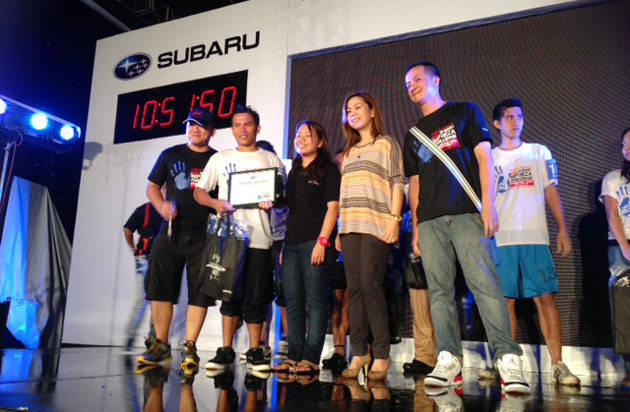 Will this be the year that a Filipino wins the Subaru Impreza Challenge regional final in Singapore?
The representatives of the Philippine contingent sure hope so. The Pampanga leg of the Subaru Impreza Challenge has declared Arnel Pido, a 23-year-old houseboy, the victor. He held on to the Subaru Forester XT for 10 hours, 51 minutes and 50 seconds. Pido will join the rest of the winners from Cebu, Davao and Manila to vie for a brand-new Subaru Impreza 2.0i MT in Singapore.
Originally slated for August 24, the Pampanga leg was moved to September 14 due to the rains brought about by typhoon Maring which inundated Manila and some parts of Luzon last month. The last leg was held at the Ayala Marquee Mall Center, with 53 participants (15 of whom were women).
Adding to the test of endurance were the sweltering heat and the downpour, not to mention the extra challenges the participants had to perform. As scheduled, the five-minute break happened six hours into the challenge. Contestants rushed to eat, go to the restroom, and even smoke within a span of five minutes. After the break was over, it was down to 31 participants. By the time the third extra challenge (jumping jacks) was finished, the number had dwindled to 22. Five more dropped out when the fourth extra challenge (the one-leg squat) was done. Of course, it was the last extra challenge (elbow-to-knee) that was the clincher. Pido did so magnificently in this one, making him the winner.
Continue reading below ↓
Recommended Videos
Pido's win came as a surprise. In fact, until the morning of the event, he didn't know he was participating in the challenge. It was his co-employee who signed him up. But even if he hadn't prepared for the contest, he was able to outlast veteran contender Edgardo Marcos, who had been joining since 2008.
Let's hope Pido, along with the nine contenders from the other legs, will be able to beat their personal records because they will go up against much tougher competition. For the record, 2008 winner Singaporean George Lee lasted 81 hours and 32 minutes.
The popular contest, generally called the Palm Challenge in other participating countries, started in 2002 in Singapore. Contingents from 10 different countries take part in the competition. In 2008, the Philippines started to send delegates to Singapore. No Filipino has won the contest...yet.
We have a feeling this year will be different. Top Gear Philippines will be at the Asian Face-Off in Singapore on October 27 to 30 to keep you posted. Who knows? Maybe this time a Filipino will be awarded the keys to a new Subaru Impreza.
Photos by Stephanie Maureen Asi