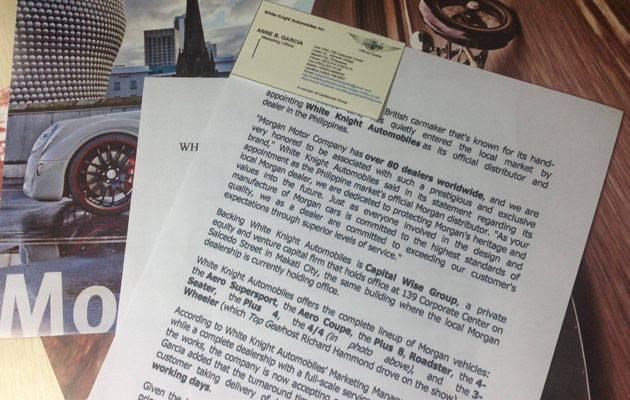 We thought we had seen it all when it came to press releases issued by car companies, but this one probably takes the cake. You see, we routinely receive atrociously written press statements from carmakers with grammar that would make an eight-year-old cringe. In our humble opinion, a car company should invest in people who can churn out excellent communication material, as this reflects on what is otherwise a prestigious brand. But we often just shrug it off and simply put together a decent story from what is given to us. It's hard work sometimes, but we do what we have to do. (To be fair, there are car companies that do provide press releases that are a joy to read. Props to them.)
Anyway, poor grammar is nothing compared to what the Philippine importer and seller of Morgan Motor Company distributed to the media at its launch event on October 29 at the Manila Polo Club. Inside the press pack given by White Knight Automobiles was a bunch of product flyers as well as the standard press release with the business card of the marketing officer attached to it. This would have been par for the course, but we noticed something unusual. Comically unusual, that is. No, make that ridiculously unusual.
Continue reading below ↓
Recommended Videos
When we read the press release, it seemed eerily familiar. And then we realized this: We (as in we, Top Gear Philippines) wrote that piece. The article--"Morgan Motor Company very quietly enters PH market"--was written by Patrick Tadeo and published on July 15, 2013.
The article was reprinted verbatim, or word for word. Punctuation for punctuation, even. Heck, even the words rendered in bold letters were retained. It was exactly how our readers saw it on our website. And this is what the Morgan distributor handed out to the press last week. Needless to say, those media outlets that are fond of copying and pasting could unwittingly commit plagiarism, too, should they choose to print the "press release" as is.
We should have known something was amiss with the distributor's marketing department. A few months ago, after we'd written our piece on the company, we got a call from the marketing officer, who asked if she could pay us a visit in the office. We said yes, thinking it was one of those "media rounds" that PR practitioners do from time to time. When she arrived at Summit Media, Patrick introduced her to the other members of the Top Gear staff. And then she asked Patrick: "So, who's buying a car?" The purpose of her visit, it turned out, was to sell us a Morgan, and she wasn't kidding.
Just when you think you've seen everything, you get the surprise of your life.